Donald Trump polls today: "Make America Great Again" may be on its last leg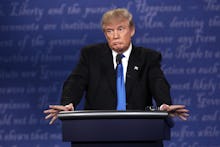 Donald Trump will take the debate stage Wednesday in the most defiant stretch of his campaign. 
He has repeatedly warned his supporters that the November election is "rigged." (It is not.) The Republican presidential nominee has said nine women who have accused him of sexual assault are lying. (The story of one of Trump's accusers was corroborated by multiple sources.) And lately, Trump has even explained away the polls he used to love so much. (Clinton leads him nationally by an average of about seven percentage points.)
Whatever Trump and his supporters believe, the reality is the Republican is on track to lose by millions of votes on Election Day. 
The math is simple and brutal for Trump: The billionaire must win several states and keep Clinton from one or two pickups to have a shot at winning the Electoral College. Trump currently trails in Colorado, Florida, New Hampshire, Nevada, North Carolina, Pennsylvania and Wisconsin. In Arizona and Ohio, the race is effectively tied. A win for Clinton in almost any two of those states would guarantee victory. 
The fact that a state like Arizona, which has gone Democratic only once since 1952, is in play poses a huge challenge for Trump. His campaign is spending only $22,000 on mailers and nothing on television ads through Election Day, which gives Clinton the chance to turn Arizona's 11 electoral votes blue.