Argentine women staged a strike after the rape and murder of 16-year-old Lucia Perez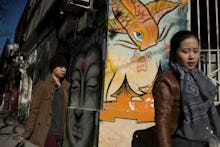 After a 16-year-old Argentine woman was raped and murdered in a horrific crime earlier this month, a group of activists organized a strike, encouraging women to walk out of work and school on Wednesday to protest Argentina's pervasive problem of violence against women.
Earlier this month, 16-year-old Lucia Perez was left at a Mar del Plata hospital by two men after being drugged and sexually assaulted so violently that she went into cardiac arrest, the BBC reported.
To draw attention, activists staged an hour-long walkout at 11 a.m. local time, and spread the word about a march planned for later that evening in Buenos Aires. Organizers asked women to wear black and are calling the day Miercoles Negro, or Black Wednesday. 
The hashtags #MiercolesNegro and #NiUnaMenos, or "not one woman less," circulated on social media as protesters shared photos of themselves dressed in black and walking out of their workplaces.
Organizers called on participants to come out and take a stand against "machista" violence, the BBC reported, a brand of violence that thrives in a culture of toxic masculinity.
In a 2015 New York Times op-ed, Argentine writer Uki Goñi discussed the "relentless and harrowing succession of news accounts of women in Argentina killed with shocking violence" in recent years, and quoted a women's shelter director who blamed "our country's macho culture." 
In Argentina, "piropos," or unsolicited catcalls and comments to women walking down the street are considered the social norm. "Such routine street harassment is widely regarded as socially acceptable, a masculine right even," Goñi wrote.
Argentina has taken steps to curb the epidemic: In 2012, the country passed an anti-femicide law, creating harsher penalties for attacks on women. But still, one woman is killed in a domestic violence case every 36 hours in Argentina on average, according to the BBC. The march in Perez's memory is just the latest push for a cultural shift around violence against women.
In an open letter, Lucia Perez's 19-year-old brother Matias said that marching in the streets is the only way to prevent the deaths of "thousands more Lucias."