Gigi Hadid: "I'm not the best on the runway"; Twitter, resoundingly: "We know"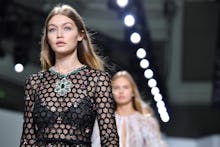 Gigi Hadid's attempt at being relatable — despite her being one of the highest paid and often considered one of the more overrated supermodels — took a swift nosedive after Twitter rallied to call out the 21-year-old.
It all started innocently enough, with Hadid opening up in a new W Magazine screen test, admitting that her runway walk could use a little bit of work.
"It's funny because obviously I'm not the best on the runway — OK, everyone, we did it, Gigi said it, I know it!" she says with a laugh, attempting, with great effort, a sense of self-awareness. "But, what do you do? I never was taught how to walk on the runway, and maybe that's because it moved really quickly for me, that people just assumed that was something I knew — so I'm working on it."
After celebrity gossip website Just Jared posted a link to their aggregated story with the text "Gigi Hadid admits she's still learning to walk on the runway," Twitter, collectively, took the opportunity to pounce in a harmonious echo of "we know."
This response is not dissimilar to a situation that happened back in April when British Vogue innocently tweeted: "Who said that Kendall and Gigi are not 'true supermodels'?"
The nearly unanimous response in that instance: "Everyone."
Ultimately, Hadid can have the last laugh here. During Paris Fashion Week alone, which took place earlier this month, she walked in five shows: Giambattista Valli, Elie Saab, Mugler, TopShop, Balmain. 
Add this season's Milan Fashion Week runway appearances for Alternative Views, Versace, Moschino and Fendi, plus New York Fashion Week appearances for Marc Jacobs, Anna Sui and Tommy Hilfiger, and it's very clear to see, though Hadid might admit she's not the best, the runway certainly disagrees.