Wednesday's schedule for Trump and Clinton ahead of the debate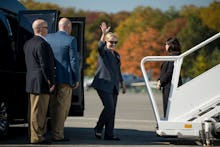 What happens in Vegas doesn't always stay in Vegas.
Millions of viewers will likely tune in as Republican nominee Donald Trump and Democratic nominee Hillary Clinton face off in Sin City Wednesday night for the third and final presidential debate of the 2016 election.
Trump has been doing some debate prep, according to CNN's Jim Acosta.
Trump also took to Twitter Wednesday morning to continue his attacks on Clinton.
Clinton arrived in Las Vegas on Tuesday. It's unclear what kind of debate prep she's doing. Her campaign has also kept up its attacks on Trump just hours before the debate.
The 90-minute debate is being held at the University of Nevada, Las Vegas, and begins at 9 p.m. Eastern. Fox News' Chris Wallace will moderate. The topics are debt and entitlements, immigration, the economy, the Supreme Court, foreign hotspots and fitness to be president, according to the Commission on Presidential Debates.
The debate is sure to be lively. Wallace, who hosted a GOP primary debate earlier this year, said he will not be fact-checking the candidates as they debate.
"If I think there's a need for me to intervene, I will. But I prefer not to," Wallace told Bret Baier on Fox News Sunday.
"Basically you're there as a timekeeper, but you're not a participant. You're there just to make sure that they engage in the most interesting and fairest way possible," he said.
While the two presidential candidates prepare for Wednesday night's final matchup, their running mates are busy on the campaign trail in key battleground states.
Democratic vice presidential candidate Tim Kaine is in Ohio and North Carolina. GOP vice presidential candidate Mike Pence is in Colorado.
Mic has ongoing presidential coverage. Please follow our main election hub as well as coverage of Donald Trump and Hillary Clinton.