Eminem releases "Campaign Speech" eviscerating Trump supporters, announces new album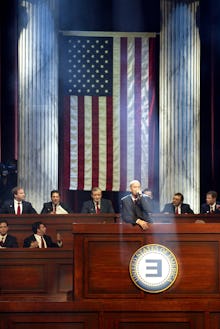 These days it seems like nearly every recording artist has an axe to grind over this year's election, with artists from Death Cab for Cutie to YG to Le Tigre releasing songs about 2016's mess of a presidential race. The opportunity has proven so ripe that now even the famously reclusive Eminem has joined the fray with "Campaign Speech." 
Hip-hop's No. 1 self-styled sociopath shared the track Wednesday via Twitter where he also confirmed a new album is in the works. The 8-minute long, beatless rap strings together scene after scene of Em's generally aimless murder and mayhem, with several special digs at Donald Trump supporters.
"Run the faucet, I'mma dunk a bunch of Trump supporters underwater," Em spits during a particularly venomous passage. "Snuck up on 'em in Ray Bans in a gray van with a spray tan/ It's a wrap, like an Ace bandage."
He also seems to suggest that people have brought the impending nightmare that is Donald Trump upon themselves in asking for anti-establishment candidates.
Consider me a dangerous man but you should be afraid of this dang candidate 
The rapper also muses about what an Eminem Administration would look like. After "gettin' off" his next order of business would be "walkin' up to Uncle Sam/ Naked, laughing, dick cupped in hand/ Screaming, 'Fuck safe sex,' throw a latex and an AIDS test at him."
It's Eminem nihilism to the highest degree. But it seems to add a period to the ongoing conversation surrounding the tenor of Trump's controversial "locker room" sexual assault talk, which several pundits have tried to frame as a product of hip-hop culture. 
Hell yes hip-hop is vulgar, Eminem seems to say, but no rapper is currently running for president.
There's also an additional level of irony here. Lest we forget, in 2004 Trump gave a speech supporting Slim Shady for president, during an MTV-hosted concert event, with the real estate billionaire saying "I know a winner when I see one." 
Correction: Oct. 19, 2016