'Super Mario Run' release date nears with 20 million signups on iOS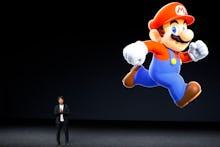 Will Super Mario Run be Nintendo's big break — or a massive bomb?
Super Mario Run is shaping up to be a huge hit for Nintendo. Last week, Apple CEO Tim Cook told BuzzFeed Japan that 20 million people have already signed up to receive a notification when the game is released.
And that's just on iOS, where the game is set to debut in December. Super Mario Run will also launch on Android later on, potentially bringing in even more paying customers. However, it's still unclear if the game will be a huge profit driver for Nintendo or another failure in a string of missed opportunities.
Super Mario Run price explained, and why it matters
Super Mario Run will be free to download, but you'll have to pay for the full experience. Nintendo explained to TouchArcade that iOS users will get access to a "portion" of the game for free. After that, people will be able to download the rest of it for a set price.
So even if 20 million people (or more) download Super Mario Run, that doesn't mean the company will make a penny. Nintendo needs to convince us that it's worth paying for the full experience based on a demo.
Nintendo's recent missteps don't exactly inspire confidence either. It's first mobile app, Miitomo, is practically abandoned just six months after launch, and the Wii U console was an infamous flop. Pokémon Go has been an undeniable success (at least financially) but Nintendo didn't actually have much to do with that game.
Super Mario Run release date still on track
Super Mario Run is slated to arrive before the end of the year, and according to noted Tokyo-based analyst Dr. Serkan Toto the game is still set to launch in December. 
Toto adds that game development is still being overseen directly by Shigeru Miyamoto, the legendary game designer who helped create Mario and a string of other classic Nintendo franchises. That should help win over die-hard fans. But whether it's enough to get a mainstream audience to pay for the full Super Mario Run experience remains to be seen.