The first look at 'Guardians of the Galaxy Vol. 2' is here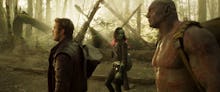 The first teaser trailer for Guardians of the Galaxy Vol. 2 is here, and if you were expecting more '80s music and intergalactic teamwork, well, you've come to the right spot.
The first look, which director James Gunn uploaded to his YouTube account, features peeks at the main cast of the first film. There's Peter Quill, aka Star-Lord (Chris Pratt), feeling some type of way about Gamora (Zoe Saldana). Then there's Drax (Dave Bautista) discouraging Quill from falling for her. And at the very end there's Mini-Groot poking its head out of Rocket (Bradley Cooper) the raccoon's fur.
Gunn has said previously that Guardians of the Galaxy Vol. 2 is going to be more focused on female characters than the preceding film. To him, it's a matter of not just this film, or Marvel films, but of a general approach to storytelling.
"Women all over the world have been pushed to the sidelines in the interests of men," Gunn wrote on his Facebook page. "This is true in the realms of politics and education and religion. But it is also true in the realm of stories. That is my personal area of expertise, and that is where I believe women – and girls – deserve the fullness of character that men have often received."
Guardians of the Galaxy Vol. 2 hits theaters May 5, 2017. Watch the trailer below.