This 9-year-old wowed Mark Cuban with an empowering speech on becoming a female sushi chef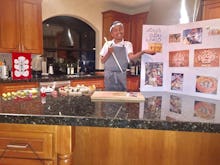 A 9-year-old girl just got venture capitalist Mark Cuban's blessing to become one of the first female sushi chefs to own a sushi restaurant.
Lucy Patterson wowed the judges in the final round of the BizWorld Girlpreneur Competition — a contest that encourages young girls to start their own businesses — with her pitch to open a non-Japanese, female-led sushi restaurant.
During her speech to entrepreneur judges Tim Draper, Sue Siegel and Cuban, Patterson talked about the sexism inherent in the sushi chef community.
"I've traveled around the country and around the globe trying new and different kinds of sushi, but not once have I seen a female sushi chef," Patterson told the judges in front of a live audience.
The young Lucy's Sushi World owner explained to the judges the lack of female sushi chefs is due to the fact that women are discouraged from entering the lucrative profession. Patterson mentioned the popular documentary Jiro Dreams of Sushi and alluded to a quote from renowned sushi chef Yoshikazu Ono claiming women are unfit to be sushi chefs.
"Women can't handle the work," Ono is quoted as saying, according to the Infossible. "Sushi involves hard labor, including gutting and slicing fish, working long hours and taking the last train home. Women have smaller hands — that messes up the size of the nigiri. Women's hands are too warm, which makes the rice too warm."
Patterson didn't let Ono's words discourage her from following her dreams.
"They say [women's] hands are too hot, they're not strong enough and their hands are too small," Patterson said. "Well I plan to change that. I'm smart, I'm strong and my hands are big enough — and so is my passion."
Patterson pitched several locations of her restaurant and even successfully convinced Cuban to allow her to open a restaurant at the American Airlines Center where the basketball team he owns, the Dallas Mavericks, play.
But Patterson, who is half-black and half-Latina, closed with an important and powerful note: She says she hopes to become a trailblazer for women in the sushi community. 
"In my short lifetime, I have seen major social progress like the first black president and the chance for the first female president," Patterson said. "I hope to build upon the trend that no matter what your background or gender is you can honor tradition from the past by celebrating diversity."