'Good Housekeeping' could do what FDA has failed at: Defeat food label anarchy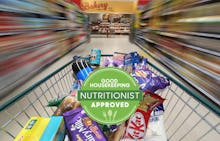 Food labels serve up tons of health buzzwords (non-GMO, gluten-free, vegan, unprocessed — the list goes on) but one new symbol hopes to cut through the bull and help Americans make smarter food purchases. 
On Tuesday, Good Housekeeping announced a "Nutritionist Approved" emblem that will appear on products that can help Americans make "better food choices on-the-go," Good Housekeeping stated. The emblem will be put into effect immediately.
Products approved to carry the Good Housekeeping Nutritionist-Approved Emblem will adhere to Good Housekeeping's core values, Jackie London, registered dietitian and Good Housekeeping nutrition director, said in an email. These values include simplicity, transparency and innovation. Here's what that means: 
Simplicity: Foods will have simple ingredients (and few additives) or will make meal preparation easier.
Transparency: Foods will have packaging that doesn't lie about health benefits and doesn't mislead consumers about serving sizes.
Innovation: Foods will be more sustainable than other products in a given food category. 
The emblem aims to bridge the gap between brands and consumers, London said, noting it has been in the works since 2014. The GHNA Emblem will signify products that are compatible with busy lifestyles while helping consumers form healthy habits. Nutrition criteria depends on the specific food's category, but any product that lists sugar as its first ingredient will be automatically excluded, Good Housekeeping noted.
Good Housekeeping's holistic approach to evaluating food products could serve up some much-needed guidance in the grocery store for people who want to eat healthier without buying "diet" foods.  
But do we need yet another food label? 
Current marketing phrases aren't exactly steering consumers in the right direction. Many of the "health phrases" brands use now don't equate to nutritionally beneficial. Vegan, non-GMO and gluten-free don't inherently indicate good nutrition. Plus, research shows consumers are easily duped by marketing language like "natural," for example, which many mistakenly think means a product has no GMOs, pesticides or additives, according to Consumer Reports. 
The Food and Drug Administration, which regulates labeling, lets food marketers get away with a lot. A surge in class action lawsuits regarding deceptive labeling and advertising in food led the Brookings Institute, a non-profit research group, to note that labels are essentially regulated by the court system during lawsuits because FDA regulation is so lax, according to a 2014 report. 
Is Good Housekeeping trustworthy?
While Good Housekeeping is a magazine owned by Hearst, a private media company, the magazine and brand have a long history of advocating for consumers. Harvey Wiley, a chemist who propelled the Pure Food and Drug Act of 1906, worked at Good Housekeeping to expose misleading diet programs and help encourage a more responsible food industry.
Brands will have to pay a licensing fee to use the GHNA Emblem, but they won't be able to buy their way into getting reviewed. 
The original Good Housekeeping seal "is really well known and trusted," Isabel Smith, a New York City-based registered dietitian who has no affiliation to Good Housekeeping, said in an email, noting that she wished the label was dietitian-approved instead of "nutritionist-approved" because "dietitian" signifies a credential while nutritionist does not. (Just about anyone can call themselves a nutritionist.) 
Smith isn't sure the GHNA Seal will add clarity for consumers. But in an age of buzzwords masquerading as nutrition advice, when the FDA can't even tell consumers what's healthy, the agency Americans depend on is basically sitting on the bench, leaving an opportunity for this legacy brand to step up to the plate. 
Correction: Oct. 21, 2016