Watch this anti-marijuana ad predict the "terrifying" consequences of legalization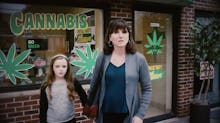 A new political ad is painting the prospect of marijuana legalization as a parent's worst nightmare.
Massachusetts is just one of a number of states that will vote on whether or not to legalize recreational marijuana on Nov. 8, and a recent WBUR poll showed 55% of respondents in the state support the measure known as "Question 4." But the opposition isn't giving up just yet.
The video, released Tuesday by the Campaign for a Safe and Healthy Massachusetts, an anti-legalization group, shows a suburban mom shopping with her daughter while a voiceover highlights what Massachusetts under legalization could look like (think "more pot shops than McDonald's and Starbucks combined").
Just look at the dismay on this mother's face when she pulls up to toy store only to be confronted by yet another marijuana dispensary (apparently called "Cannabis" because marijuana marketing is but a fledgling industry).
Dismayed Mom tries to drag her child away from a window display full of delicious-looking-but-actually-quite-unholy weed candy when who should walk out of the store but her son — Kevin! No! —holding what we can only assume is a bag full of said cannabinoid temptations.
It seems to be true that there are more dispensaries in Colorado than Starbucks and McDonald's locations, at least according to Vocativ, but not everywhere in the state allows the sale of recreational weed. Rocky Mountain PBS News reported in 2015 that 71% of Colorado's 321 jurisdictions banned marijuana dispensaries, both medical and recreational, so the dispensaries were extra concentrated in areas where they're permitted. And, as Boston magazine pointed out, Massachusetts already has 2,917 liquor stores. 
As for the dangers of children being tricked by weed candy? Colorado has already banned "look-alike" edibles, or edibles designed and packaged to look like familiar candies, the Associated Press reported in 2015. More recently, the state implemented new guidelines that require the letters "T-H-C" (for tetrahydrocannabinol, marijuana's main psychoactive ingredient) be stamped directly onto the edible.
That's "in addition to exhaustive labeling and packaging rules that include childproof zippers and lids" along with explicit warnings, the AP reported. If Massachusetts were to follow similar guidelines, edibles sold in dispensaries wouldn't look much like the ones in the video.
And as for the mom running into her son as he comes out of the dispensary with his arms full of legal weed? The kid in the video looks well below the legal age to possess recreational marijuana in every state where it's legal — 21.
It seems that there's a good chance the marijuana measure will pass in Massachusetts come November, so the state may get a chance to see this ghastly dystopia come to life. God help us all.