Clown Attacks 2016: Where latest incidents have occurred and how the prank turned violent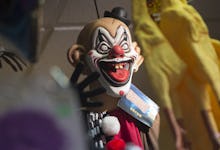 Since it's 2016 and nothing makes sense anymore, terrifying clown attacks have become something of an international issue.
Reports of the masked carnival cronies have surfaced everywhere from San Francisco to Sweden, and the worse news is that the "pranks" are only getting scarier by the day.
Clown attacks turn violent
While some creepy clowns are harmless pranksters, others are reportedly carrying out dangerous acts of violence.
Recently, a woman in Mayes County, Oklahoma, reported an incident in which she was flagged down in her car by a woman standing on the side of a road. Once she pulled over, two men in clown masks allegedly dragged her from her vehicle, and the female suspect allegedly put out a cigarette on the victim's face and wrote "clown posse" on her face, Oklahoma's NewsOn6.com reported.
Where are the clown attacks happening?
A comprehensive map of reported clown sightings recently released by Atlas Obscura shows the encounters dotting the continental U.S., from Annapolis, Maryland, to Portland, Oregon, like a particularly bad case of chicken pox. 
Even Europe and the Philippines have experienced attacks as of late — proof that the clown epidemic is truly an international nightmare.
Although creepy clown encounters are no longer relegated to your worst nightmares, there are at least two surefire ways to avoid running into them in your waking hours: Always travel in packs, and, whatever you do, stay away from the circus.
Oct. 19, 2016, 4:25 p.m. Eastern: This story has been updated.
Correction: Oct. 19, 2016