Who is 'Joanne?' The meaning behind Lady Gaga's new album title.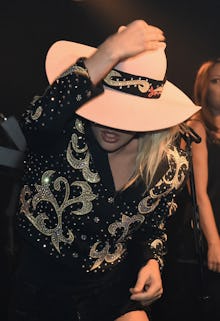 Lady Gaga sells out stadiums. Joanne sells out dive bars.
Even before taking the stage for her first Dive Bar Tour stop and asking the audience to "call me Joanne," Lady Gaga made it clear that her fifth pop album, Joanne, was going to bring a very different aspect of her creative persona into the spotlight. 
The album, released Friday, is the clearest look fans have had at the soft-spot Stefani Joanne Angelina Germanotta (Gaga's real name) has for country and blues music. They're loves she inherited from her father, as she described in a recent Rolling Stone interview. She told the publication that the album's main theme was "family," and tangentially the ways in which music worked to bring them together. The first and most obvious nod to that end is the album's title.
Joanne is Lady Gaga's middle name, and the name of her aunt on her father's side, whom Gaga was named after. The star never met her aunt. She died young, long before Gaga was born. But to hear Gaga tell it, the stories her family told about Joanne were what inspired Gaga to try to make a career of music in the first place. 
To understand the album and Gaga's most recent creative transformation, one has to first understand Joanne's story.
Gaga's aunt, Joanne Stefani Germanotta, was a painter and a poet, who died at age 19 from lupus on Dec. 18, 1974, 12 years before Gaga was born. The artist has that date tattooed on her arm.
"What I know of Joanne is what she left behind, which was a lot of loss and a lot of tragedy in my family," Lady Gaga told Yahoo Music. Gaga said that a sexual assault her aunt survived "tormented [Joanne] so emotionally that it caused the lupus that she had to get so bad that she died." 
The detail adds an entirely new personal dimension to Lady Gaga's survivor's anthem "Til It Happens to You," written for the campus sexual assault documentary The Hunting Ground. 
When she turned 19 herself, "That's when I really decided I was going to hit the ground hard — hit the [New York] dive bar scene and the club scene hard with my music and playing out as a songwriter," Gaga told Yahoo. "It was really Joanne, and that story of our family, and the toughness that made us who we are, that gave me the strength to go, 'You know, I'm going to live the rest of my life in a way that she couldn't.'"
The artist has celebrated her aunt's creative past before, including one of Joanne's poems, "For A Moment," in the lyric booklet for her debut, The Fame. Gaga also recently got in touch with her dive bar roots on a Bud Light-sponsored tour that's already hit Nashville and New York City. Her first stop in Nashville is where she premiered her gospel ballad "Million Reasons" and the electro-country romp "A-Yo."
Gaga delves deepest into this story on the album's title track, "the true heart and soul of the record," as she explained to Beats 1. It features a self-reflective Gaga, asking Joanne to stay. "Girl/ Where do you think you're goin'?" she sings on the song's hook. 
Yet on the bridge, Gaga admits that she knows the answer to her own question: "Honestly, I know where you're goin'/ And baby, you're just movin' on/ And I'll still love you even if I can't/ See you anymore."
This details are blurred enough to feel universal and hopefully resonate with any one who's experienced a similar sense of loss. However, Gaga doesn't see the album as being solely focused on her loss, it's also a celebration of herself and all the stories and aspects of her identity that make up her being.
"There's two sides of me," Gaga explained to T Magazine. "There's the side of me that's a true rebel and then, another side of me that is my father's daughter. And so this album, it doesn't lean necessarily in a particular direction, which is why the album title is Joanne. This is my middle name. This is the middle on the center of me."