6 things you can do right now to fight hunger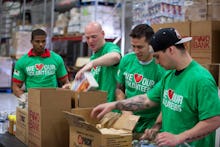 Subway and Feeding America believe there's no reason anyone should go hungry. That's why they have established the Good Deed Feed. Subway knows that, although they feed millions of people every day, there are also millions of people in the U.S. who don't know where their next meal will come from. So in honor of National Sandwich Day, on Thursday, Nov. 3, when you buy any sandwich and drink, Subway will give you another sandwich free and donate a meal to Feeding America. Click here to learn more about the campaign. And when you share this article, Mic will donate $1 — up to $10,000 — to Feeding America.
We live in one of the richest countries in the world, yet at least 42 million Americans lack adequate access to affordable, nutritious food. In 2015, according to a report by the U.S. Department of Agriculture, 1 in 8 Americans — including children, seniors, veterans, and students — were living in food insecure households. Among the households served by Feeding America, more than half (54%) have a family member who has worked in the past 12 months, and yet they still struggle to meet their basic needs.
Hunger in America is not about scarcity: There is plenty of food to feed every man, woman and child in the U.S. Even worse, according to another report by USDA, some 30-40% of our food supply ends up in landfills instead of on our tables — a whopping 133 billion pounds in 2010, worth an estimated $161 billion. So while food is literally being thrown away, food insecure families are making tough choices between food and utilities, food and transportation and even between food and medical care.
For many of us, taking solitary action against what seems like such an insurmountable problem feels futile. But there are a number of meaningful ways you can take action to help make a real difference. Here are six things you can do right now to fight hunger.
1. Donate smarter
The best way to support hunger relief in your community is by making a financial donation to your local food bank and encouraging your friends, family and colleagues to do the same. Many food banks will show you the impact of your donation in terms of how many meals or how many pounds of groceries they can procure with a $1 donation. (Use Charity Navigator to find out what percentage of donations actually go to providing services.)
If you're donating food, make sure your donation goes to the recipients who need it most, or to organizations that are best equipped to distribute it. Donations often can overwhelm local food banks and pantries with items they don't need, can't use or judge to be unsafe, so consult your local food pantry to make sure it has the resources and space to accommodate your generosity. Some enterprising food activists are providing innovative ways to donate smarter and more efficiently, including MEANS (Matching Excess And Need) and Copia, online networks that enable food donors and recipients to find each other and transport food where it's needed.
2. Donate your time 
A small action can have a big impact. Volunteer at a local food bank and help provide meals to people in need each year (Feeding America has a location finder). Or sort fresh produce grown by local farmers for Foodshare to distribute through the Mobile Foodshare program. Or donate your lunch break and drop off a few meals for Meals on Wheels, delivering food to senior citizens who might not be able to get out or cook for themselves. 
There are numerous ways to get involved, including helping with preparation, deliveries, serving, office work, organizing a fundraising event and gleaning, a process of gathering excess fresh food from farms, gardens, markets, restaurants and other sources. Employers often allow employees to use work time to volunteer.
3. Take a walk 
Hunger walks, like Project Bread, March Against Hunger and CROP Hunger Walks, bring attention and awareness to the mission of fighting hunger while fundraising for the cause. For parents that might not have a lot of time to volunteer, hunger walks are a family-friendly activity that encourages service and sets a good example for kids while teaching them about food waste. Contact your local food bank to find ways to advocate in your community.
4. Grow and give
If you have a roof, a backyard or access to a community garden, you can help in the fight against hunger by growing your own fresh produce and donating it to your local shelter. Home gardening is helpful in myriad ways: It can introduce healthy eating to those living in food deserts; it can help you to live a greener, more sustainable life; it can teach you about seasonality of fruits and vegetables; and, if you have kids, it can be an excellent family bonding activity. Children feel empowered when they are given the opportunity to help others, and empathy is an important life lesson for the next generation. Check out this site for more information on how to create a community garden.
5. Teach a cooking class
While it may seem counterintuitive, research from the Food, Research and Action Center found a strong connection between food insecure households and obesity. Low-income families are often forced to shop for poor-quality, mass-produced foods that lack the nutritious content required for balanced, nourishing meals. Organizations like Common Threads provide children with practical skills in health and nutrition, and programs like Cooking Matters teaches families how to cook healthy, affordable meals. Sign up to teach your favorite one-pot recipe to empower a family to take their food and nutrition into their own hands.
6. Buy wisely
As a consumer, where and how you choose to spend can be a powerful way to contribute to a cause. An easy way to fight hunger is by supporting products and platforms that have a cause or a campaign associated with them, such as The Hunger Site, an online marketplace that sells fair trade items and sends the proceeds to participating charities like Feeding America, Millennium Promise and Mercy Corps. In addition to Subway's Good Deed Feed, there are other restaurant-based fundraising initiatives like Round it up America and Restaurants Against Hunger that donate a portion of your bill to the fight against hunger. And consider couponing; if you've ever wondered what to do with 20 cans of baked beans, now you know!