Donald Trump's guests to the third debate all have something in common: Libya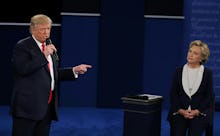 After boasting about how he restrained himself from attacking former President Bill Clinton over his sex scandals during the first presidential debate, Donald Trump took the gloves off for the second debate.
Trump invited several women who have accused Democratic candidate Hillary Clinton's husband of sexual assault to the Oct. 9 debate in St. Louis.  
And for the third and final debate, his focus is on another scandal that has plagued Democratic candidate and former Secretary of State Hillary Clinton: Libya.
It's a very clear message.
Trump is inviting Malik Obama, the half-brother of President Barack Obama who has praised Libyan dictator Muammar Gaddafi.
He is also hosting Patricia Smith, the mother of Sean Smith, a U.S. diplomat who was killed in the attack on Benghazi on Sept. 11, 2012, who has accused Clinton of murdering her son. Lydie Denier, the former fiancé of U.S. Ambassador Chris Stevens, who was also killed in Benghazi, will be Trump's guest during Wednesday night's debate as well.
Trump has also invited Marcus Luttrell, a retired Navy Seal who co-authored the hit book and film Lone Survivor, a story that highlights many of the tactical failures of the war in Afghanistan. You might remember Luttrell from when he spoke at the Republican National Convention.
Clinton's guest list, which was released to reporters Wednesday afternoon by the Clinton campaign, is a horse of a different color. She has invited billionaire Mark Cuban, the star of the ABC reality show Shark Tank and owner of the Dallas Mavericks, and Meg Whitman, the CEO of Hewlett-Packard and longtime Republican who is supporting the Democratic nominee.
More low-profile guests of Clinton include Karla Ortiz, a young girl born in Nevada to undocumented parents, and Astrid Silva, an activist for immigrant rights. Both guests hail from Nevada. She has also invited Ryan Moore, who she met as a young boy in 1994, to help highlight the success of the Clinton approach to healthcare.
She also invited Ana Scott, the mother of a soldier killed in Iraq in 2007 while awaiting citizenship and Gary Crane, who was her son's teacher.
Mic has ongoing presidential coverage. Please follow our main election hub as well as coverage of Donald Trump and Hillary Clinton.