Third presidential debate liveblog: Highlights, full recap of the Clinton v Trump showdown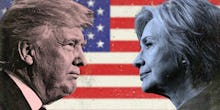 Hillary Clinton and Donald Trump will meet Wednesday night for the final presidential debate of the 2016 election, an event that's likely to be an ugly back and forth between the two presidential hopefuls.
Trump is limping into the debate, his campaign badly damaged by a 2005 tape in which he bragged about sexual assault, and an ensuing cascade of women who came forward to accuse Trump of groping or kissing them without consent — just as he described in the tape.
Since those revelations came out, Trump has been running a scorched-earth, conspiracy laden campaign, hoping to drag Clinton down into the mud in the hopes of depressing her turnout and helping him eke out a win.
Those scorched earth tactics were on full display before the start of the debate, with the Trump campaign announcing a list of conservative instigators and Clinton haters who will be Trump's invited guests in the debate hall.
The Trump campaign announced prior to the debate that President Barack Obama's estranged half-brother from Kenya, Malik Obama, would be attending the debate as a guest of Trump — a dog whistle to the birther movement Trump pushed for years.
Other guests the Trump campaign invited into the debate hall include tea party icon Sarah Palin, conservative vigilante James O'Keefe and Leslie Millwee, a woman who came forward just hours before the debate to allege that Bill Clinton sexually assaulted her in the 1980s. Millwee told her story exclusively to Breitbart News — a conservative and conspiratorial news outlet run by Trump's campaign CEO.
Clinton, for her part, is likely to try and keep her head above the mud slung her way, trying to preserve the large lead she's built over the past few weeks and ride it to victory on Nov. 8.
Mic will keep you up to date on the big breaking moments at the debate. All times are Eastern. – Emily Cahn
10:10 p.m.: Trump refuses to say if he'll accept the election result
Trump refused to say whether he'll accept the ultimate outcome of the election.
When pressed for an answer by moderator Chris Wallace, he refused to answer.
"I'll tell you at the time, I'll keep you in suspense," Trump said.
Clinton pounced and brought up other things Trump's complained were "rigged."
"He's talking down our democracy, and I for one am apalled that someone who is the nominee of one of our two major parties would take that kind of position," Clinton said.
— Emily Cahn
10:00 p.m.: Audience laughs when Trump says he respects women
During an exchange where Trump was forced to defend himself against the 11 women who have come forward to accuse him of sexual assault, Trump stepped in it.
When he said that, "Nobody has more respect for women than I do," the audience broke out into laughter.
It's not a good sign for Trump's defense against the allegations that may have been the ultimate undoing of his campaign.
— Emily Cahn
9:35 p.m.: Clinton says Trump is a "puppet" of Russian President Vladimir Putin
In the punchiest line of the night so far, Clinton accused Trump of being a "puppet" of Russian President Vladimir Putin.
When Trump said Putin had "no respect" for Clinton, she responded, "That's because he'd rather have a puppet as president."
"You continue to get help from him because he has a very clear favorite in this race," Clinton continued of Putin. "So I think this is such an unprecedented situation, we've never had a foreign government trying to interfere in our election."
Trump went on to be baited into defending Putin and the cyber attacks his government has carried out to influence the American election.
"She doesn't like Putin because Putin has outsmarted her at every step of the way," Trump said, refusing to admit that Putin was behind the Wikileaks hack of Clinton campaign emails, which the U.S. government has confirmed and Trump has been briefed.
— Emily Cahn
9:28: Clinton says Trump "choked" when he met with the Mexican president
The debate got combative 25 minutes into the debate, when Clinton said Trump "choked" when he met with the Mexican president and couldn't bring up his signature campaign issue — the border wall.
"When it comes to the wall that Donald talks about building, he went to Mexico, he had a meeting with the Mexican president and didn't even raise it. He choked," Clinton said. "Then he got into a Twitter war because the Mexican president said, 'We're not paying for that wall.'"
— Emily Cahn
9:20 p.m.: Trump says he would appoint justices that would "automatically" overturn Roe v. Wade
Trump came out strongly against abortion rights, saying if he were elected president he would appoint Supreme Court justices that would "automatically" overturn Roe v. Wade — the case that gives women the right to an abortion.
"I am pro-life, and I will be appointing pro-life judges," Trump said.
Trump deflected, however, when asked whether he wants to see Roe v. Wade overturned.
"I would think that that would go back to the individual states," Trump said of abortion, dodging the question.
Trump also came out strongly against late-term abortions, however he once supported the issue.
Clinton, on the other hand, came out strongly in support of abortion rights.
"Ii will defend Roe v. Wade, and I will defend women's rights to make their own health care decisions," Clinton said, pointing out correctly that Trump once said women who get abortions should be punished.
Trump later reneged that statement, but it haunts him to this day.
— Emily Cahn
9:13 p.m.: Trump calls out SCOTUS Justice Ruth Bader Ginsburg
When asked about where he wants to see the Supreme Court go if he were elected president, Trump took the time to call out Justice Ruth Bader Ginsburg — a liberal hero on the court who has become a pop-culture icon.
Ginsburg called out Trump earlier this year, saying he was a "faker" — a remark she later apologized for.
"Something happened recently where Justice Ginsburg made some very inappropriate statements toward me and toward a tremendous number of people, many, many millions of people that I represent," Trump said. "And she was forced to apologize and apologize she did. But these were statements that should never ever have been made."
Trump went on to say that he would appoint justices that "have a conservative bent," are "pro-life" and protect the second amendment.
— Emily Cahn
9:05 p.m.: Third debate kicks off with no handshake
After an ugly 24 hours, with Trump's campaign trying to troll Clinton by bringing controversial guests designed to rattle her on stage, the candidates entered the stage and did not shake one another's hands.
The lack of civility in the final three weeks of the race could portend a nasty post-election climate in the United States.
— Emily Cahn