Who won the presidential debate? Twitter weighs in on the final Trump vs. Clinton showdown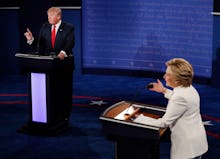 The third and final presidential debate saw a historic and chilling moment: Donald Trump said he would not necessarily accept the results of the election. The debate between the Republican nominee and Democratic presidential nominee Hillary Clinton saw far more serious Hillary Clinton saw far more serious Hillary Clinton saw far more serious discussion of policy issues than previous matchups. 
But the debate also had its share of vitriolic and heated moments. Throughout the debate, journalists, pundits and supporters weighed in on the debate on Twitter. Here's what people said about the candidates' debate performances — and who they thought won the debate.  
Reaction to Hillary Clinton's debate performance
Clinton took the debate's first question: Who would she appoint to the Supreme Court? Clinton said she would appoint justices that agreed with a majority of Americans on issues like abortion and women's rights. She also took a jab at Senate Republicans who have yet to give a hearing to Merrick Garland, Barack Obama's nominee to replace Antonin Scalia on the Court.
Gun ownership became an issue early in the debate. While Clinton said she supports the rights of Americans to have guns, she said there need to be tighter restrictions on how easy it can be for citizens to purchase firearms. 
After Trump reiterated his pro-life stance, Clinton came out strongly as the candidate in favor of letting women make their own healthcare decisions — and some viewers thought she made stronger points. 
Clinton sparred with Trump on this point, saying "the government has no business" being involved in abortion decisions. Then, the debate moved to an extremely hot topic: Immigration.
And on the issue of Trump's proposed wall between the U.S.-Mexico border, Clinton got one of her best one-liners in. When talking about Trump's recent visit with the Mexican president, she said Trump, who has consistently touted the wall, didn't bring up the wall during his meeting with the leader. "He choked," Clinton said. 
Trump and Clinton debated whether the Democratic presidential nominee supports "open borders." Wallace cited an email released by Wikileaks in which she said in a speech at an international bank that "open borders" are a "dream" of hers. 
Clinton tried to pressure Trump to acknowledge that national security experts say Russia has been leading hacks of email accounts. Clinton called Trump a "puppet" that Russian President Vladimir Putin would like to have in the White House.
When the debate pivoted to the economy, Clinton said she would create new high-paying jobs and move America's job market into the future. Meanwhile, she slammed Trump's plan for giving wealthy Americans tax cuts and doing too little to middle-class Americans.
To counter Trump's claims about Clinton's "wrong experience," she said that her leadership at the country's highest levels proves she is ready to be president.
Clinton emotionally and thoughtfully went through a point-by-point rebuttal of Trump's statements about women in recent weeks, and viewers praised her for it. 
As the presidential candidates debated about their respective foundations, Clinton defended her record and attacked Trump for his own words. And then, Trump said this: 
Clinton's willingness to accept the election results did her favors among viewers and journalists alike.
Overall, many thought the final debate was substantive, but also a combative encounter where Trump may have hurt himself.
Reaction to Donald Trump's debate performance
Unlike in the first two presidential debate, Trump did not interrupt Clinton in the debate's opening moments. Also, he was largely inexpressive in the split screen.
Trump responded to the early question about the Supreme Court by saying it is "so, so important." He said the Court must preserve the Second Amendment. He also said justices he would appoint would have a "conservative bent" and be pro-life.
The Supreme Court line of questioning then pivoted to abortion. Trump strongly stated that he is pro-life and said he would appoint like-minded justices.
Trump hit back strongly on Clinton's pro-life stance and being in favor of partial-birth abortion.
On the point of immigration, Trump said the country must have "strong borders" that will stem the flow of drugs into the U.S. He reiterated his support for building a wall along America's southern border with Mexico. And he attacked Clinton for her support of "open borders" — a position he once supported.
Trump did not take Clinton's bait — saying "he choked" in Trump's meeting with the Mexican president — and instead said that in 2006, she supported building a wall. That's sort-of true.
Trump and Clinton sparred aggressively about Russia. 
On the economy, Trump said that he would renegotiate trade deals and would cut taxes across the board. "We are going to start the engine rolling again," Trump said. 
Trump moved to manufacturing and said he has met people who are "crying" over lost jobs in industrial states. And he hit Clinton on her past support of free trade, a position she said she no longer holds in the form of support for the Trans-Pacific Partnership.
Wallace moved the conversation to the allegations of sexual assault leveled at Trump over the past few weeks. Yet again, Trump aggressively refuted these allegations and said there is no validity to them.  
As Clinton hammered Trump over his treatment of women, he pivoted to other campaign issues that he could use to hit the Democratic presidential nominee on.
Trump said his foundation gives all its money to charity and is relatively small. (See reporting from David Fahrenthold for details about the Trump Foundation.)
By the end of the debate, Clinton had gotten under Trump's skin. And he could not help but return to his strategy of interruptions. Further, since Trump said he would not necessarily accept the result if Clinton won the election, there was shock.
Who do viewers say won the debate: Hillary Clinton or Donald Trump?
After the debate, there was consensus that Trump did well on multiple policy topics. But the fact Trump said he would not necessarily accept the result of the election immediately became the headline out of the debate. 
Trump said: "I will tell you at the time. I'll keep you in suspense." And the response to that was overwhelming. 
But some hardcore Trump supporters still believed that the Republican won the election. And it's unclear how Trump saying he would not accept Clinton's victory will affect his support.
And this more or less sums up how pundits felt after the debate.