Here's where to get the full transcript of the debate between Clinton and Trump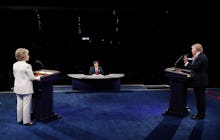 The final debate between Democratic candidate Hillary Clinton and Republican Donald Trump got right into some serious topics, including the Supreme Court, gun control, abortion rights and immigration.
"I am a very strong supporter of the Second Amendment and I am - I don't know if Hillary was saying it in a sarcastic manner - but I'm very proud to have the endorsement of the NRA and it's the earliest endorsement they've ever given to anybody who ran for president," Trump said during the third and final debate before the Nov. 8 election. "So I'm very honored by all of that."
Here's where to find a running transcript of the debate from Las Vegas.