Chris Wallace was the real winner of the third presidential debate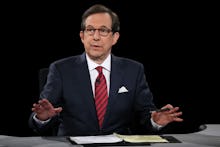 Hillary Clinton and Donald Trump were the focus of the third and final presidential debate, but the real winner was Fox News' Chris Wallace.
The debate moderator was the best of any debate — primary or general election — in 2016.
Chief among Wallace's stellar performance were the actually substantive questions he asked. Unlike moderators past, who either lobbed softballs or focused on the candidates' personalities, Wallace made Wednesday's event all about policy.
We learned about the candidates' feelings on abortion rights — a topic that rarely, if ever, comes up in debates.
We learned about their thoughts on Supreme Court nominees.
He pushed them to speak of their foreign policy plans — particularly how to combat the Islamic State and how to address the humanitarian crisis in Syria.
Both were forced to talk about their economic policies, their records. Even when the discussion looked like it might go off the rails, Wallace reined the candidates in.
Wallace's performance was a bright spot for Fox News, which has faced turmoil this year after the network's top executive, Roger Ailes, was forced to resign amid a sexual harassment scandal.
Twitter lauded Wallace for his performance:
Reporters even joked that Wallace needed to be brought on to moderate CNN's post-debate panel — which often devolves into frustrating shouting matches.
And perhaps the biggest sign that Wallace did well was that top Republicans and Democrats were united in their praise of him.
In such an ugly and polarized election, Wallace's performance was the most blessed and welcome thing to come out of the night.