Women are reclaiming Trump's "nasty woman" comment as a rallying cry for empowerment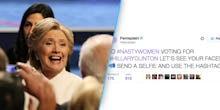 To the delight of the collective American consciousness, the third and final presidential debate between Hillary Clinton and Donald Trump wrapped up Wednesday night — but not without Trump getting in some predictably sexist insults to Clinton.
Just 30 minutes after Trump said "No one has more respect for women than I do" — to the laughter of the audience — he interrupted Clinton while she discussed her tax plan, calling her "such a nasty woman."
Women quickly picked up on the irony of Trump — the same man who uttered the infamous "grab them by the pussy" phrase — calling Clinton a "nasty woman" and used the insult against him.
The "nasty woman" comment wasn't the only moment from the debate where Trump was forced to reckon with his obvious disdain and lack of respect for women. Clinton used her opponent's very own words against him, listing just a sampling of the many times Trump insulted and degraded women publicly. 
With Nov. 8 shaping up to be a possible landslide victory for Clinton, and Trump saying he wasn't sure if he would accept the outcome of the election should he lose, there will most likely be more one liners to add to the Donald Trump Insults to Women list. 
Mic is selling a NastyWoman t-shirt to commemorate Donald Trump's sexist insult aimed at Hillary Clinton. Check it out here.