Ex-teacher Jeffrey Scott Jones slits throat in court after being convicted of raping girl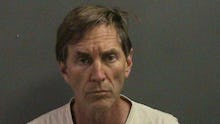 A former California teacher slit his throat in a courtroom after being convicted of repeatedly raping a young girl, starting when she was in just eighth grade.
Jeffrey Scott Jones, 56, was convicted Wednesday of two felony counts of aggravated sexual assault of a child, as well as one felony count of continuous sexual abuse, according to the Los Angeles Times.
The former high school teacher, who had 27 years on the job, pulled out a small razor blade and slit his throat as the verdict was being read. Jones was removed from the courtroom and is being treated for non-life threatening injuries.
It's unclear how Jones managed to get the blade into the courtroom.
Jones' abuse of the girl, who was not his student, started when she was 13 years old, the Los Angeles Times reported. Prosecutors say Jones first started making sexual comments and touching the girl in 2012. He began raping her in 2013.
Jones is facing 68 years to life in prison.