Orionid Meteor Shower Tonight: Time and how and where to watch the Oct. 2016 meteor shower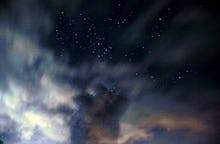 Bad news for stargazers: Although the Orionid meteor shower is usually one of the best annual light showers of the year, 2016 will be a different story.
According to Space.com, peak visibility for the shower would have been Oct. 21, but it will be offset by the glare of the waning gibbous moon. 
Orionid meteor shower time
The waning moon will severely impact the possibility of seeing the shower, even during its peak time at dawn, according to Space.com. The website suggests trying to view Orionid after its peak. Before the moon rises at 1:25 a.m. on Oct. 24, for example, would be a better time to view the shower in the mid-northern latitudes. 
Orionid meteor shower: best viewing spots
The shower is named for the Orion the Hunter constellation, the constellation from which point it radiates, according to EarthSky.org, which means the shooting stars will be ascending from the east. Even though the shower originates in the east, it will visible in all parts of the sky.
Orionid meteor shower: how to watch
Earthsky.org suggests going out before dawn on the peak nights for your best chance to see the Orionid shower. Because of the moonlight, seeing the shower in its full glory will be difficult, but you should still be able to spot a few meteors. According to Space.com, Orionid meteors leave longer trails that other equally bright meteors.