'Legend of Zelda: Breath of the Wild': Nintendo releases new trailers ahead of NX reveal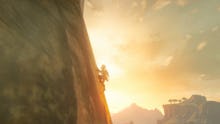 Late Wednesday night, the Nintendo of America Twitter announced it would finally reveal its new console — currently codenamed NX — on Thursday morning, at 10 a.m. EST.
As if that weren't enough exciting Nintendo news for one day, there are now several new videos on Nintendo's Japanese YouTube account showing new gameplay footage of Legend of Zelda: Breath of the Wild, which will be coming both to Wii U and the NX in 2017.
The first video shows Link's various methods of navigating the game's vast, open world:
The second video centers around Link's wilderness survival and combat abilities:
And finally, Nintendo's last video shows off Breath of the Wild's gorgeous weather effects:
Mic will keep you up to date with the latest Nintendo NX news as it hits Thursday morning. Until then, enjoy that gorgeous Legend of Zelda: Breath of the Wild footage.