16 Handles tells customers to "Grab 'em by the fro-yo," Twitter drags brand accordingly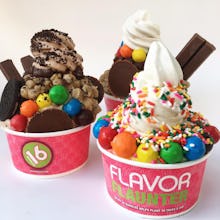 Know what doesn't mix well? Ice cream and misogyny.
On Wednesday night, 16 Handles, a frozen yogurt retailer, sent a marketing blast that told its subscribers to "Grab 'em by the fro-yo." The chain's demographic is millennial women. Not a recipe for success. 
Now who thought this was a good idea? On Wednesday night, 16 Handles customers opened their emails to find a marketing blast titled "We're Making Fro-Yo Great Again" with American flag emojis on both sides of the title. 
Aw, poor fro-yo brand trying to stay relevant in late October. The email's questionable subject line ("We're Making Fro-Yo Great Again") could have been relatively harmless had 16 Handles not chased the Trump-flavored slogan with an image that riffs on the Cheeto-colored man's sexist and lewd comments about grabbing women by the pussy, comments that imply sexual assault. 
The email from 16 Handles shows a woman's well-manicured hand reaching toward a fro-yo decorated with blue and white candies. Text above the image reads: "Grab 'em by the fro-yo." 
The email continued: 
"Tonight's debate will be pretty heated. Cool off with some fro-yo from 16 Handles! Be sure to order in time for the presidential debate at 9 p.m. 
Accordingly, Twitter dragged the inappropriate email.
The 16 Handles team sent an apology email around 9 p.m. on the same day. The subject line read "An Apology from the 16 Handles Team" and the email stated: 
"We messed up, and we're sorry. The 16 Handles team deeply regrets any unintended harm our recent e-blast has caused. We do not endorse any presidential candidates, nor their statements or actions. In an attempt to facetiously reference pop culture, we made a callous mistake. We apologize for the offense we have caused and we would like to remind our customers that we oppose all forms of sexual abuse and harassment." 
Let's be clear: Trump saying "grab 'em by the pussy" was not mere pop culture — he made offensive comments about women and joked about dismissing consent. This isn't just sexist, it's sexual assault, Mic previously reported. While the company attempted to to cater to women with sarcasm, its attempt failed because the joke seems to implicate victims rather than Trump. 
Some on Twitter wondered how the atrocious 16 Handles email came to be.
In an election where major food brands like Skittles and Tic Tac have been quick to distance themselves from Trump and his xenophobic and sexist comments, it's any wonder how a brand could possibly think that referencing the Republican candidate's campaign slogan and his comments about sexual assault would entice millennial women (again, 16 Handles' demographic) to crave frozen yogurt. 
16 Handles isn't the first to whisk together food and females — comparing food and sex is a frequent theme in food writing because both are "sensually enjoyable activities," Slate noted.  
But marketing a product by trying to riff on sexual assault? Excuse us while we go eat our feelings at Ben & Jerry's. 
16 Handles did not immediately respond to Mic's request for comment.