Melania Trump doubles down on her commitment to the pussy bow at final presidential debate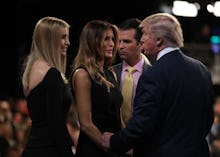 If there was any doubt that maybe, just maybe, Melania Trump's pussy bow blouse worn during the second presidential debate was just an unfortunate accident, last night proved definitively otherwise. As the wife of Republican nominee for president, Donald Trump, made clear her affection for the statement neckwear — by wearing one again last night. 
At the third and final debate, held at the University of Nevada, Las Vegas, Trump aligned herself with her husband's running mate, Hillary Clinton (sartorially, at least) by wearing Clinton's go-to designer, Ralph Lauren. Trump opted for a $1,790 all black "Sheryl tie-front jumpsuit" with a prominent pussy bow proudly on display.
The $1,100 Gucci "pussy-bow silk crepe de chine shirt" worn during that second debate made headlines largely because of suspect timing. 
Days earlier, leaked tapes revealed Donald Trump's now infamous "grab them by the pussy" remark, so Melania's decision to wear a blouse evoking a reminder of the word that will forever be engrained in the minds of many when they think of her husband seemed like a definite... statement. (What that statement was if not shade was unclear.)
And for those that justified that act as merely coincidence, on Wednesday night Melania Trump (who surely, if nothing else, was informed of the brouhaha over her outfit the last go-round) decided why avoid controversy when she could draw attention back to her husband's alleged sexual assault? An odd maneuver for a woman who on Monday defended her husband's actions, blaming the "left-wing media." 
So was this Trump signaling yet another silent protest of defiance over her husband's actions? Using fashion to condemn him, knowing that in interviews she could not? All one can do is speculate.