Presidential polls: CNN, Fox, 'USA Today' and other major news outlets' numbers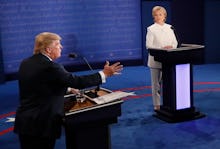 Donald Trump turned in a mixed, though potentially dangerous, final presidential debate performance. Hillary Clinton was able to get under Trump's skin, and she framed a positive vision for the country. 
It will be several days before new scientific polls detail how the debate impacted voter opinion. But a review of election poll trackers shows Clinton has a monumental national lead. Mic reviewed six credible poll trackers, including those on the political left and right, and found a consensus that the Democratic presidential nominee leads by several percentage points nationally. 
Unless otherwise noted, all of the following polls are of a four-way presidential race.
CNN: CNN's "Poll of Polls" says Clinton leads Trump by 8 points nationally.
Fox News: The latest Fox News poll, released earlier this week, gives Clinton a 6-point national lead. Another Fox poll found that, as of Oct. 12, 32% and 31% of voters found Clinton and Trump, respectively, "honest and trustworthy."
USA Today: According to one of America's largest newspapers, the average of polls has Clinton up by 6 points nationally. 
RealClearPolitics: This staple of election tracking has given Clinton between a 6- and 7-point national lead since Oct. 16. 
Huffington Post: This poll tracker gives Clinton about a 7-point lead in a three-way race. This model classified support for Jill Stein as "other." 
FiveThirtyEight: FiveThirtyEight is known for its accurate election projections which are largely based on state-level polls. But their tracking of national polls gives Clinton a 6-point lead — and an an 86% chance of victory.
The graphic to watch: Here are how Trump's poll numbers compare to Mitt Romney's at this point in 2012. In that race, Romney and Barack Obama were essentially tied at this point.