Nintendo NX is now the Nintendo Switch: Watch the extended trailer here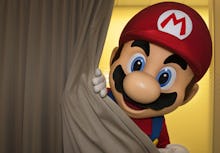 Nintendo's long-awaited new console, originally called the NX, was finally revealed on Thursday morning through a trailer posted to the official Nintendo Twitter account. It's now the Nintendo Switch.
Nintendo's new console revealed
It looks as though the rumors about it being a fusion of a handheld device and a home console were completely true. The trailer confirms it will be available March 2017.
Here's how the Switch works, according to a press release from Nintendo:
"At home, Nintendo Switch rests in the Nintendo Switch Dock that connects the system to the TV and lets you play with family and friends in the comfort of your living room. By simply lifting Nintendo Switch from the dock, the system will instantly transition to portable mode, and the same great gaming experience that was being enjoyed at home now travels with you."
The controllers for the Switch, which are called "Joy-Con controllers," look like they will be an even more versatile version of the wand-like remotes that shipped with the Nintendo Wii. 
Here's how they work, according to Nintendo:
"Gaming springs into action by removing detachable Joy-Con controllers from either side of Nintendo Switch. One player can use a Joy-Con controller in each hand; two players can each take one; or multiple Joy-Con can be employed by numerous people for a variety of gameplay options. They can easily click back into place or be slipped into a Joy-Con Grip accessory, mirroring a more traditional controller. Or, if preferred, the gamer can select an optional Nintendo Switch Pro Controller to use instead of the Joy-Con controllers. Furthermore, it is possible for numerous people to bring their Nintendo Switch systems together to enjoy local multiplayer face-to-face competition."
In the trailer, you may have noticed that there was footage of a new Mario game shown running on the Switch — we don't know many details yet, but you can check out more images of it here.
For months, fans were clamoring for any news about Nintendo's next console, but it kept details hidden. This lack of news had some speculating that Nintendo would delay the console out of its initial March 2017 release window, but a spokesperson recently confirmed to the Wall Street Journal that Nintendo was still planning on revealing the console in 2016.
This story is developing.