Clown Sightings 2016: Latest rumors, heat map and Halloween costumes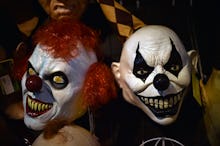 On October 6, Atlas Obscura came out with a clown-sighting heat map, a comprehensive guide to all the hellbent Bozos and Bubbles spotted roaming the streets and forests of the United States. But early October, when the cases of clowning had already broken triple digits, was far from the last time a creepy clown would rear its grease-painted face.
The latest rumors of clown sightings
On Wednesday there were two new sightings, with clowns reported in Holyoke and Chicopee in Massachusetts, and a man dressed as a clown on Instagram made death threats against two schools in Florida.
On Tuesday, police in Plain City, Utah, got several calls about a clown wielding a machete. The Saturday before, a clown in an English village released a video, captioned "Hello kids," with the clown apparently traipsing around town in the middle of the night.
Earlier in October, a teenage girl in the Philippines said she was attacked by someone wearing a clown costume. And in the U.K., six reports of "clown incidents" were reported in northern England, including an incident of a knife-brandishing clown following children to school.
"We believe this to be part of a much larger prank which is currently sweeping across the USA and parts of the U.K.," County Durham neighborhood sergeant Mel Sutherland told the Guardian. "It is very alarming [the man] was carrying a knife — however, we do not think he intended to harm the children and as far as we are aware, this is part of the prank."
The clown-sighting heat map
Atlas Obscura's heat map of every sighting in the U.S. through the first week of October can be seen here.
Clown halloween costumes
The rash of creepy clown sightings around the globe even prompted Target stores to remove clown masks from their Halloween costume offerings just a couple weeks before Halloween — which indicates a separate problem with this whole clown scare, beyond dressed-up jerks trying to scare kids. Real clowns, or professional clowns who don't chase kids with machetes or hang out in the woods at night, are having a harder time doing their job.
"I don't see anything funny about it," Emanuel Emiliano Fernandez, who performs in Argentina under the name "Fluorescent Plug," said, according to International Business Times. "Clowns make people laugh and happy. ... It's not just painting your face. ... If you saw me in the street, what would you do?"