Danielle Staub, former 'Real Housewives of New Jersey' star, reunites with Teresa Guidice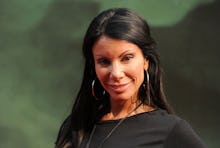 "Prostitution whore!" "Fucking engaged 19 times!"
These were just a few of the utterances spatted at Danielle Staub by Teresa Guidice at the climax of the Last Supper, the first season finale of The Real Housewives of New Jersey in 2009. 
Moments later, this:
In the pantheon of Real Housewives moments spread across 46 seasons from nine U.S. iterations, no moment will define the cultural impact of the franchise more than the table flip seen across the world. 
Not Scary Island. Not medium Allison DuBois's e-cigarette. Not Michaele Salahi trying to crash a White House state dinner. Not "who gon' check me, boo?"  Not "you stole my goddamn house." Not "close your legs to married men."
The rivalry between Staub and Guidice would propel the arc of the entire second season of the show...
...with Staub abruptly exiting after the series' tumultuous Season 2 reunion, in which Guidice pushed host Andy Cohen in an attempt to physically confront Staub.
But now, the tables have turned (#reference). Here we are, seven years later, with an Instagram post that broke the Housewives-dwelling internet on Wednesday afternoon, revealing the one-time arch nemeses are now all "namaste, bitches" — friends at long last.
"So good catching up with @danielle_staub," Guidice wrote in an Instagram post. "Leaving the past in the past and moving forward with only positive vibes. Looking forward to the future ???? ."
We decided to catch up with Staub to learn how this reunion came about, whether or not the friendship is real and the question so many inquiring minds want to know: Will she return to the series?
Mic: It's been seven years since we last saw you on the show. What have you been up to?
Danielle Staub: Well, I've been raising my daughters, who, when I left the show, were 9 and 13, and now they're 18 and 22. On television, you're remembered for the last scene that you were seen in. The kids have graduated from college and high school. Raising them has occupied all of my time, happily, so I couldn't be happier and I couldn't be prouder to say that that is what I've been doing. And when the time was right, the right person came into my life, and I am currently in a very serious relationship with the man I believe I will spend the rest of my life with.
Do you miss doing the show at all?
DS: Absolutely. As tempted as I was to go back, I needed to wait until both of my kids were done with high school. It was something that I promised them. Every time I made a step toward considering, like going to the reunions, which I was asked repeatedly to do, or coming on a season, I opted out. And I really could have used the money. And I could have used the clearing of my name. But the universe works in mysterious ways, and the timing wasn't right. In honoring my children, I didn't return, but now, I think it's the perfect time and I would 100% without hesitation return.
Have you been watching the show in the years since your exit?
DS: Absolutely not, even one episode. I've seen maybe 10-second clips purely by accident, and I just couldn't. It was because present company was curious cause he had never seen the show. He saw how uptight I was getting and we immediately changed it. I have a tendency to get a little agitated about it, and rightfully so, but no, I only know what I see on Twitter.
What prompted Wednesday's reunion with Teresa? The last time you two were face-to-face, she nearly assaulted you.
DS: Teresa reached out to me a few weeks ago wanting to reconnect with me and I immediately said yes. We were talking about yoga mostly and our kids via text message and then, seeing as she has this love for yoga — I don't think she understood that I've been a yogi for eight years and I'm well advanced in my yoga practice — she asked if she could come and take a class with me. I took her to my favorite yogi master and instructor and she joined the class. When she walked in, it was like we just saw each other yesterday; we gave each other a big hug. It was quite beautiful because people were walking up to us asking, "Did we just witness something iconic?"
Are you able to put everything from the past in the past?
DS: I know we can. We went and had Jamba Juice and discussed everything that had happened. A little bit of tears because I definitely feel like she was heartfelt with the way she wants to acknowledge how she treated me and my children. It takes a really big person to own up to your mistakes. I forgive. You don't ever forget, but when someone apologizes I have always been able to move on from it as long as I believe it's genuine. She's really grown as a person.
What about the other person involved with your feud at the time, Jacqueline Laurita? Are you two in contact?
DS: Jacqueline hasn't reached out to me other than to do what she does to apparently everybody and that is to have nothing nice to say or to get someone to blog something that's totally ludicrous. She's stuck in high school. She wants everyone to be her friend but she's not willing to be a friend to anyone.
Why do you think you've remained such a popular figure in the canon of Housewives despite only appearing on two seasons of the show?
DS: Without sounding like I have no grasp on reality, for lack of a better word, I think it's because I'm the most relatable personality that's ever been on Bravo. I'm relatable to my bone, to my core: I was honest, I was able to admit parts of my journey, I wasn't running from my past, but I didn't get a chance to really describe or explain anything that really happened. 
The people that have been behind me and rallying me for so many years are a broad range of ages from grandmothers to children. I've had a journey that's been difficult and I've still held my head up high. I haven't allowed anyone to hurt me, and I think people find strength in that. I want to shout out to my fans how much I love them and how much they mean to me. I respond personally to all of my fans that treat me with dignity. There are a few people I put in there place [laughs], but mostly I like to spend my time reaching out to those that have supported me throughout the years.
Last but not least — are you returning to the show? 
DS: I can neither confirm nor deny. Yesterday we were not filming. It was organic, no cameras, which made it super real. That much I can confirm.