Is vaping illegal? Here's how the latest government regulations affect vape legality.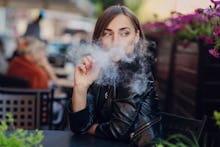 Is new vaping regulation really going to affect its legality? Or is it all just smoke and mirrors?
Current FDA vaping regulations 
Well, let's break it down: In May, the Food and Drug Administration successfully regulated vaporizers, classifying them as tobacco products. It went into effect Aug. 8. 
This means vaporizers are now subject to the regulations of the 2009 Family Smoking Prevention and Tobacco Control Act, which "gives FDA authority to regulate the manufacture, distribution and marketing of tobacco products."
What the latest FDA regulations mean for vapers 
Essentially, this will make it just as hard for people to get e-cigarettes as it will for them to get old-fashioned cigarettes. If you are, or look, under 18 years old, it'll make purchasing them more difficult, because e-cigs are now illegal for minors. However, if you are neither of those, the new regulations shouldn't impact you much. 
This is an important development, Mitch Zeller, director of the FDA's Center for Tobacco Products, explained: Between 2011 and 2015, the use of e-cigarettes among high schoolers increased by 900%. Something needed to be done to inhibit young people's access to these products, which have been linked to a number of health risks — and that's what this new regulation seeks to do. 
How the FDA is considering further regulations
American Vaping Association president Gregory Conley vehemently opposes the new laws, saying on Aug. 5 they signal "the beginning of a two-year countdown to FDA prohibition of 99.9%+ of vapor products."
New regulations will, in fact, be rolled out between 2016 and 2019. While there are increasing restrictions — particularly on manufacturers and distributors — the regulations do not include a near-total prohibition of vaporizers. 
For example, by 2018, the packaging and advertisements of vaporizers must include the following label: "WARNING: This product contains nicotine. Nicotine is an addictive chemical."
Ultimately, the FDA considers vaping a public health issue because, while many scientists regard them as less harmful than real cigarettes, they're still bad for you. Further, other scientists have even argued "e-cigarette vapor damages DNA in ways that could lead to cancer" — and that doesn't sound too good. 
Oct. 20, 2016, 2:24 p.m.: This story has been updated.