Alicia Keys raises $2 million for AIDS relief at the KCA Black Ball, jabs Trump onstage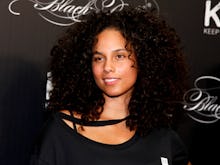 NEW YORK — As if she was a soothsayer receiving a vision, Alicia Keys somehow knew what was going on at the presidential debate happening halfway across the country while performing at her 13th annual Keep a Child Alive Black Ball.
"Right now, an orange man is insulting our first female candidate for president," Alicia Keys told the crowd, sharing her vision. "Gambling with the freedoms we fought so hard for."
It was hardly the first nod to politics Wednesday night at New York City's Hammerstein Ballroom, which had been transformed into an '80s graffiti-covered dining hall to match the theme of the charity event: "Love the '80s, stop the AID-ies." Many of the speeches and performances nodded to the political climate, while keeping focused on the night's primary goals: raising money to end AIDS through Alicia Keys' Keep a Child Alive foundation, with the event raising over $2 million according to a representative. Part of the program also served to honor music industry legend Clive Davis, whom Keys described as "boldly committed to the fight against AIDS back when there was so much fear and discrimination" that even governments were hesitant to take a stand. 
Keys praised Davis specifically for his work uniting artists like Stevie Wonder, Gladys Knight, Elton John and Dionne Warwick to raise money for AIDS research with "That's What Friends Are For," describing it as "a moment of light in the cold, painful Reagan years." Wednesday night's show seemed positioned as a similar moment of compassion and responsibility in the uniquely dark times our nation faces today.
"Vote for love," Keys urged. "Because orange is not the new black."
The night's performances were streamed on Tidal and included short sets Salt-N-Pepa, Chance the Rapper, A$AP Rocky and Patti Smith, with Keys duetting with each of the latter three. She harmonized with Chance on "Blessings (Reprise)," cowing him into saying, "I can't sing with you, Alicia."
"This is probably the most important thing I've ever done and the most important thing I'll do in a while," he told the crowd.
Keys traded verses with the godmother of punk Patti Smith on "Because the Night," describing Smith as "an originator, a real example of womanhood." Smith passed along credit to Davis, in part, thanking him for nurturing her from the "arrogant" and "awkward" young woman she was into the artist she became. In her own earnest and endearing way, Keys reiterated the comments in several nods to the legend, at one point shouting "Clive Davis for president!" to wild cheers from the audience.
"Alicia is very unique," Davis said in a phone interview before the event, detailing his relationship with Alicia Keys, whom he signed over 15 years ago. 
"I remember that audition and our first meeting very vividly. After she played one song on the piano in my office I thought it was almost a tease, I couldn't believe it. Here she was 18 or 19 years old, beautiful, stunning, musical, writing her own music. I couldn't believe that she could get a release from her old contract."
Davis added: "You just provide opportunities for Alicia, because she's powerful in person and charismatic. You can do it for a lot of artists, and not all of them score. But Alicia, from the beginning, just mesmerized audiences."
She did so again last night, performing some of her biggest hits and perhaps her most outwardly confrontational political song to date, "Holy War," a song reportedly to appear on her upcoming Here. 
It's a clear sign that Keys sees her activism and her art as being two means to a single end, following several of 2016's other blockbuster artists, like Beyoncé, TI and Jay Z, who have all begun to use their music this year as a vehicle for sociopolitical critique.
When asked on the event's red carpet how it feels to see chart-topping artists experimenting with politically-engaged songwriting, punk godmother Patti Smith had only praise:
The mainstream is redefining itself. Our mainstream artists are becoming very aware of what's happening in our world. The more popular you are, if you have social consciousness, the more your message will get out. If I could write the hit of the world that would help people, I would. But I just don't have that ability. We have to pin our faith on future generations, and I'm right there with them to support.
Keys offered a similar statement of purpose on the red carpet: "This is a very serious time," she said. "It's not a joke. It's not a game. It's important that America not lose its dignity. It's important for us. We are the leaders," she continued, speaking to a group of young journalists. "We are the ones that lead the country, and we have to make sure we're not laying down right now."
Watch the full performance below via Tidal.