How the third presidential debate affected the candidates in the polls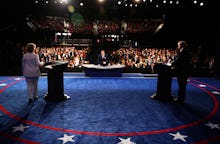 Donald Trump needed a clear debate win. It is too early to know how the debate will affect the race overall. But immediate post-debate surveys of debate watchers found Trump may not have delivered the win he needed.
For the third debate in a row, the post-debate CNN / ORC poll said Hillary Clinton beat Trump. Fifty-two percent of debate viewers said they believed Clinton won, while 39% said Trump won. (Notably, 39% is about the average support Trump has drawn among voters for months.) That was the closest margin of the three debates: After the first debate, 62% of viewers said Clinton won, to only 27% for Trump.
A YouGov post-debate poll found 49% of viewers believed Clinton won — 10 points more than Trump. 
With the vitriol and controversy on the campaign trail, it has been unclear how past debates affected poll numbers. But Trump losing three straight debates, including the finale less than three weeks before election day, will not help his campaign. The RealClearPolitics average of polls gives Clinton a roughly 6-point lead nationally.