Eminem "Campaign Speech" lyrics: A breakdown of the verses in his Trump-ethering anthem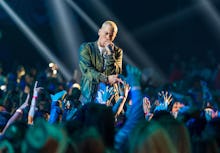 The world would be a terrifying place if Eminem were president. He's first to admit it on his latest single "Campaign Speech," released Wednesday just hours before the third and final presidential debate. However, he insists he wouldn't be as bad as one of the people currently aiming for the Oval Office.
"Consider me a dangerous man," Eminem raps, stating the obvious on his first new potential album cut since 2014. "But you should be afraid of this dang candidate."
Eminem doesn't go into specifics about what makes him unfit to serve exactly — the way that YG does on his "Fuck Donald Trump" tracks, or how Death Cab for Cutie did on "Million Dollar Loan." Instead, the track functions as more of an aimless, chaotic revenge fantasy, something that will likely remain Em's bread and butter until the very end. 
On the 8-minute long, sparse track, Eminem imagines kidnapping and drowning Trump supporters, but seemingly blames all of us for his rise.
"Run the faucet, I'ma dunk/ A bunch of Trump supporters underwater," Eminem raps about halfway through the song. "Snuck up on 'em in Ray Bans in a gray van with a spray tan/ It's a wrap, like an Ace bandage."
His only other Trump mention comes a few lines later, where he admonishes all those who asked for an anti-establishment candidate of the people. "Great idea!" Eminem sneers after running down the wishes of those people: 
"You say Trump don't kiss ass like a puppet 
The rest of the track simply features Eminem torturing, mocking and lampooning various pop culture figures. It's a writing strategy he employed to great effect on past pop hits like "The Real Slim Shady" and "Without Me." In 2016, he's aiming at Daniel Pantaleo, the cop who killed Eric Garner, and George Zimmerman, the man who killed Trayvon Martin:
"I'm givin' Daniel Pantaleo a refresher course
He also imagines a brutal fate for Dylann Roof, the white supremacist that attacked and killed nine black congregants at the Emanuel African Methodist Episcopal Church in June 2015.
"And send Dylann Roof through the windshield of the Benz
It's a pure Hollywood slasher fest — difficult to stomach or condone, but even harder to look away from. Read the full lyrics on Genius.