Nintendo Switch controller explained: How do the Joy-Con controllers work?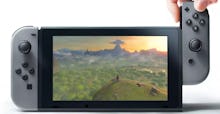 The Nintendo Switch is a totally new concept for a game console, and that means a totally new type of controller to go with it.  
Enter Joy-Con, a modular system designed to support the Nintendo Switch. Here's everything we know about the controllers so far.
In an official press release, Nintendo describes all the different ways you can use the Joy-Con controllers. You can attach them to either side of the console's portable display for gaming on the go, or detach them and prop up the Switch using a built-in kickstand.
Nintendo Switch Joy-Con controllers: Multiplayer on the go
Some games will require both Joy-Con controllers to play, but other multiplayer titles only need one. So you'll be able to play with a friend using one controller each for games like Mario Kart. You can even combine two Nintendo Switch consoles for a four-player experience.
Nintendo also notes that the detachable controllers will "easily click back" onto the portable display or connect to a special Joy-Con Grip accessory that mirrors a regular controller. 
Additionally, Nintendo will sell an optional Switch Pro controller, which offers a more traditional experience similar to the Wii U Pro controller.
The Nintendo Switch is set to launch in March 2017. Nintendo still hasn't revealed the official price or release date.