'Red Dead Redemption 2' reveal trailer shows a spectacular vision of the Wild West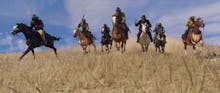 Never mind Westworld. If you want a compelling vision of the Wild West, and a world that you can actually step into and explore, the announce trailer for Red Dead Redemption 2 from developer Rockstar Games shows the game is just what you're looking for.
The trailer mostly shows off the gorgeous vistas and world of Red Dead Redemption 2, with only a tiny nod at the storyline, which apparently involves a character running away from something. Perhaps we'll again be playing as a cowboy whose past catches up to him — like in the story of John Marston, the hero of the first Red Dead Redemption. (It's also the story of James Marsden's character in Westworld, but I digress.)
But if you want to talk about environment as character, the first Red Dead Redemption stands as a sterling example of this theory in practice. The size and fidelity of its open world impressively pushed the limits of what the PlayStation 3 and Xbox 360 were capable of graphically. 
It looks like Red Dead Redemption 2 will follow in the footsteps of its predecessor in terms of crafting a Wild West environment with the level of minute attention to detail that Rockstar never fails to deliver, only this time the studio has access to the far superior hardware of the PS4 and Xbox One. And hopefully sometime in the near future, Rockstar will take advantage of the powerful hardware offered by PC gaming.
The variety of environments in the Red Dead Redemption 2 trailer is fantastic
The original Red Dead Redemption included snowy mountain ranges, scrub-filled low deserts, barren high deserts, lush forests, swampland, frontier towns and more civilized cities. It's no surprise that Rockstar chose to highlight a variety of different environments in the Red Dead Redemption 2 reveal trailer.
The reveal trailer amounts to a travelogue, but with images this gorgeous to look at, it's still plenty for Red Dead fans to get excited about.
The trailer incorporates key elements of the original Red Dead Redemption — sights and sounds that will make veteran Red Dead players feel at home — while also providing new players a sense of how genuine Rockstar is attempting to make this depiction of frontier America. The image of a train racing down the tracks, surrounded by a herd of buffalo, evokes the train in Red Dead Redemption that made a regular circuit around the map.
Enormous vistas in Red Dead Redemption 2
Size matters when it comes to a Rockstar game, considering the studio deals in open worlds. Grand Theft Auto IV and Grand Theft Auto V gave players a ton of places where they could just look out from on high and appreciate how large of a playground Rockstar constructed for them. We can only hope that some of the images from the reveal trailer depict similar locations where can marvel at the scale of what Rockstar has created.
Town and city life in Red Dead Redemption 2
What we didn't get to see much of in the reveal trailer, however, is what town and city life look like in Red Dead Redemption 2. These are the places where players will rearm and rest before heading back out to help citizens, gun down robbers, or walk themselves on the wrong side of the law. Hopefully, Rockstar's next trailer will show off what "civilization" looks like in this next rendition of the world of Red Dead Redemption.
Rockstar has plenty of time between now and Red Dead Redemption 2's fall 2017 release date to show us a cavalcade of new trailers, and really build the Red Dead hype train.