Nintendo Switch Games: Every title Nintendo teased in the Switch reveal trailer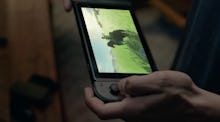 Nintendo's long-awaited new console, originally called the NX, was finally revealed on Thursday morning through a trailer posted to the official Nintendo Twitter account. Its official name is Nintendo Switch.
It works as both a handheld console and a home console. You can take your games with you in the car, and as soon as you get home, you can slide the console into a dock and the games will appear on your television.
Along with the reveal of the hardware itself, the trailer shows several games running on the Nintendo Switch.
Nintendo Switch games: The six titles Nintendo teased
First, it shows someone playing The Legend of Zelda: Breath of the Wild, which we already knew would be coming to both the Wii U (Nintendo's current console) and the Nintendo Switch.
Next, it shows someone playing a brand-new 3-D Mario platformer. Its gameplay looks similar to Super Mario 64 or Super Mario Sunshine.
The Switch also appears to be running The Elder Scrolls V: Skyrim — Special Edition:
There also appears to be a brand-new Mario Kart coming to Nintendo Switch. It seems this is not a backwards-compatible version of Mario Kart 8 — the most recent entry in the series — because this appears to have Boo as a playable character, who is not available in Mario Kart 8:
You can also see a group of friends playing some kind of NBA game, presumably NBA 2K17:
And, finally, a version of the multiplayer Wii U game Splatoon is shown running on the Switch. It's unclear if this is a sequel to Splatoon or if it's showing the same game released on the Wii U running on the new console:
Notably, Nintendo seems to be trying to court more third-party developers to release games for the Switch, like Bethesda (which develops Skyrim) and 2K (which develops NBA 2K17). Many people cite the low number of third-party games on the Wii U as one of the chief reasons it had lackluster sales, so it makes sense for Nintendo to attempt to remedy that with the Switch.
The Nintendo Switch will be available March 2017.