New York polls: 2016 election projections for New York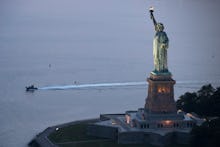 Both of the 2016 presidential candidates are from New York, but there's one clear winner in the Empire State.
Democratic candidate Hillary Clinton is still leading Republican candidate Donald Trump by double digits in New York, the latest polls show.
Clinton, who was New York's junior senator from 2001 to 2009, is ahead of Trump by 24 points in a head-to-head matchup against Trump, according to a new Siena poll conducted from Oct. 13 to 17.  
A RealClearPolitics average of statewide polls gives Clinton a 21-point lead over the New York real estate tycoon.
The polls do not reflect voter reaction to Wednesday night's third and final debate between Trump and Clinton. It will take several days to gather polling data to see if the debate had any effect on likely voters.
Clinton has held a steady double-digit lead over Trump in New York since January, and that isn't likely to change in the final weeks before the Nov. 8 election.
"New York hasn't voted for a Republican for President since Ronald Reagan in 1984 and I would say the Democrats' 32-year streak seems pretty safe," Siena pollster Steven Greenberg told the New York Daily News.
The two candidates are expected to be in New York City on Thursday night, just a day after their contentious debate in Las Vegas. Both Trump and Clinton will attend the Alfred E. Smith Memorial Foundation dinner, an annual roast featuring prominent New York politicians, according to the Associated Press. 
Mic has ongoing presidential coverage. Please follow our main election hub as well as coverage of Donald Trump and Hillary Clinton.