Karena Virginia comes forward as latest to accuse Donald Trump of sexual assault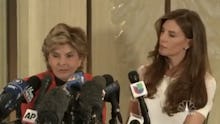 Karena Virginia, a yoga instructor and motivational speaker, came forward Thursday to accuse Donald Trump of groping her at the U.S. Open tennis tournament in 1998.
In a news conference Thursday in New York City, in which Virginia appeared alongside attorney Gloria Allred, Virginia described her alleged assault, saying Trump said, "Hey, look at this one" and "We haven't seen her before, look at those legs," before touching her breast.
"I am here to stand up to Mr. Trump for myself, my family and particularly, my daughter," Virginia said, reading from a statement at the news conference.
Virginia is now at least the 12th woman to come forward with sexual assault allegations against Trump.
Trump has denied all of the accounts, claiming that the women accusing him are seeking "fame." Trump has also said the timing of the allegations is suspect, and claims Hillary Clinton's campaign is behind the sudden influx of women speaking out against his sexual misconduct.
His campaign also denied Virginia's account.
"Discredited political operative Gloria Allred, in another coordinated, publicity seeking attack with the Clinton campaign, will stop at nothing to smear Mr. Trump," Jessica Ditto, deputy communications director, said in a statement. "Give me a break. Voters are tired of these circus-like antics and reject these fictional stories and the clear efforts to benefit Hillary Clinton."
However, many of the women accusing the Republican presidential nominee said it was the release of a tape from 2005, in which Trump bragged about sexually assaulting and groping women, that made them come forward.
Polling shows voters don't believe Trump's claims that the women accusing him of assault are liars.
News of the 12 sexual assault allegations have helped Trump's campaign tank especially among women voters; he now trails Clinton by more than 6 points, according to the RealClearPolitics average.