Why you should ditch that "Indian" Halloween costume, as told by indigenous people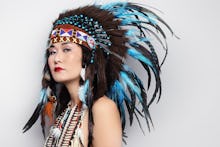 Halloween is the one time of the year that you can be anything you want. But in recent weeks, many indigenous rights activists have called out the problem with Halloween costumes that mock indigenous peoples' culture. 
Alicia Big Canoe posted a viral photo of her dressed in her regalia, traditional aboriginal dress, holding up a sign with the hashtag #IAmNotACostume.
"In the spirit of Halloween, please keep this in mind when selecting your costume," Big Canoe said in a Facebook post. "Dressing up as 'chiefs' and 'Indian princesses' is cultural appropriation."
In an email interview, Big Canoe explained that it is disrespectful for non-indigenous people to mock their sacred ceremonies, rituals and customs for a Halloween costume. She says it's hurtful to see the offensive Halloween costumes, "especially since we fought so hard to revive them."
"Canada has a very dark history of cultural genocide and systemic racism toward indigenous peoples," Big Canoe said. "When I started seeing non-indigenous peoples dressing up in skimpy false replicas of our regalia and partying, it did not sit well."
Big Canoe joins several voices within the indigenous community who have been speaking out. Activists from Saskatchewan, Canada, are placing warning labels on Halloween "Native American" costumes to take a stand against costumes because they inappropriately sexualize indigenous women. 
The warning labels, taped onto offensive "Native American" costumes at the Spirit Halloween costume store in Regina, Canada, read:
"Warning! The items contained in this package are offensive and promote the sexualization of Indigenous women and peoples. Please avoid contact with these dangerous materials."
On the other side of the label is a bleak and truthful message:
"There are well-over 4,000 missing and murdered Indigenous women and girls in Canada. An inquiry is being pursued to address this issue. It takes everyone in Canada to fight against sexualized violence. That starts with outfits of this nature."
Since 1969, more than 1,000 Indigenous women from Canada have mysteriously disappeared or have been killed, the Washington Post reported. On the Trans-Canada Highway, also known as "The Highway of Trails," 18 women — half of them indigenous — have gone missing or been killed. In July, after heavy pressure from indigenous rights activists, Canadian Prime Minister Justin Trudeau appointed a commission to investigate these deaths and disappearances.
Twitter users have started to speak out against people who dress as Native Americans for Halloween, too:
Big Canoe said these costumes can have a lasting negative impact within the community because it hinders the self-esteem of young indigenous people. Recently, her 9-year-old daughter asked her why people dressed like them for Halloween. Her daughter had already started to feel as if non-indigenous people were poking fun at them and their culture. 
"When you have to walk in the world every day knowing that your people continue to be treated this way, much differently than non-indigenous peoples, cultural appropriation can very much perpetuate negative self-image," she said.