First Milky Way hydrogen map reveals how stars were formed billions of years ago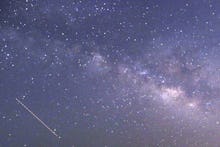 Scientists have been studying the Milky Way for centuries, but earlier this week they released the findings of what may be their most in-depth look at the galaxy yet. 
Using a 100-meter radio telescope at Germany's Max Planck Institute and Australia's 64-meter CSIRO radio telescope — two of the world's largest and most powerful telescopes — scientists were able to create a hydrogen map of the Milky Way.
According to Sky News, the project required "more than 1 million individual observations and 10 billion data points." 
Analyzing the neutral hydrogen can be a tricky undertaking since cellphones and broadcast stations "pollute" emissions, but this latest attempt has revealed some never-before-seen facets of our galaxy.
"Pilot studies of the HI4PI data show a wealth of filamentary structures never seen before," International Center for Radio Astronomy Research professor Lister Staveley-Smith told Sky News. "Tiny clouds become visible that appear to have fueled star formation in the Milky Way for billions of years."
There are still a few kinks to work out.
"These objects are too dim and too small to be detected even in the other galaxies closest to us," Staveley-Smith said.
And University of Bonn astronomer Juergen Kerp told Sky News that there's still some fine-tuning to be done to factor out the aforementioned "noise" from our technology here on Earth. 
"Sophisticated computer algorithms have to be developed to clean each individual data point of this unwanted human interference," he said. 
But, Kerp noted, the newest findings should still be considered a feat, noting that, "Next to the thousands of observing hours, an even larger amount of time has been spent creating the final scientific data product released today."