Donald Trump promises to accept the results of the election — but only if he wins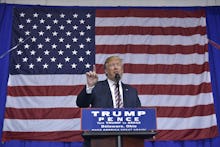 Donald Trump has total faith in and respect for the American electoral process, with one major stipulation.
In his first campaign appearance following the final presidential debate, Trump assured a crowd in Ohio that he would accept the will of the voters on Election Day — as long as he wins.
"I would like to promise and pledge to all of my voters and supporters and to all of the people of the United States that I will totally accept the results of this great and historic presidential election — if I win," Trump said, making a point to emphasize the last three words.
At the debate in Las Vegas, Trump continued his assault on the longstanding American tradition of respecting the outcome of the election, telling moderator Chris Wallace that he "will tell you at the time" and "keep you in suspense."
Hillary Clinton called Trump's refusal to commit to accepting the results "horrifying," and his comments were met with widespread condemnation by Democrats and Republicans alike.
On Thursday, Trump reiterated his argument that widespread voter fraud could be at play on Election Day, an assertion that has little-to-no basis in fact. Voter fraud is extremely rare, and Trump conflated outdated voter registration rolls with actual instances of fraudulent voting.
"According to Pew — highly respected — there are 24 million voter registrations in the United States that are either invalid or inaccurate," Trump said. "Listen to this — 1.8 million people are dead, but they're registered to vote."
Trump told supporters that "we're not going to lose" before stating that he is reserving the right to challenge the results of the election in court. He referenced the contentious recount battle in the 2000 election, and claimed his position is simply in line with "centuries of legal precedent."
"If Al Gore or George Bush agreed three weeks before the election to concede the results and waive their right to a legal challenge or a recount, then there would be no Supreme Court case, and no Gore v. Bush or Bush v. Gore," Trump said.
Trump's invocation of the 2000 recount is misleading at best. As many have pointed out, Gore did not dispute the integrity of the electoral process before Election Day, and he conceded victory to Bush after exhausting his legal options.
Trump, on the other hand, is trying to cast doubt on the results before the votes are even tallied. It represents yet another unprecedented breach of political tradition, with effects that will reverberate long after Nov. 8.