'Civ 6' release date and time: When can you play 'Civilization VI' in each country?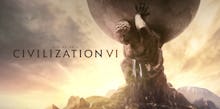 Civilization 6 is just a day away! The latest installment in the popular turn-based strategy game is set to launch on Friday, Oct. 21. But for those eager to start playing as soon as humanly possible, here's the official breakdown of release times for Civilization 6 around the world.
Civilization 6 release dates and times
If you live in Canada, the United States, Mexico or South America, you can start playing on Oct. 21 at 12 a.m. Eastern Time. Europe, Russia, most of Africa and the Middle East will be able to play at 12 a.m. British Standard Time. Finally, Civ 6 will be available in Southeast Asia, Australia and the rest of Oceania at 3 a.m. Australian Eastern Daylight Time.
If you're more of a visual person, here's a map from Civ 6 developer Firaxis.
How to pre-load Civilization 6
If your plan is to download Civ 6 on Steam, you can actually kick off the process now — that way you can start playing as soon as the game is available. Just hit this link to begin pre-loading.
Civ 6 is set to introduce a ton of new mechanics and features to the series. We're already planning more coverage to help guide you through the game, but for now just sit back and enjoy the latest launch trailer while you wait for the release to arrive.