Donald Trump's rumored TV project could make Fox News look like the 'New York Times'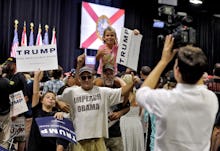 Excited for a respite from news about Republican presidential nominee Donald Trump once polls close on Nov. 8?
Too bad. While we won't know what's next for Trump until after election day and he is behind in the polls, several signs suggest he is already cooking up a back-up plan: to go into news media. 
A rumored post-election pivot and "Trump TV" launch has dominated the news cycle for Trump, even becoming part of the candidate's skewering on Saturday Night Live. And — as the New York Times, Politico, BuzzFeed and others have pointed out — the candidate's Facebook Live stream during the third debate seemed like a soft launch for a TV enterprise.
On Monday came an announcement on Trump's Facebook page that it would produce a nightly live-stream at 6:30 p.m., eastern standard time, through the election.
The real juice behind what is still officially just talk about Trump TV is that Jared Kushner, Trump's son-in-law and owner of the New York Observer, took a meeting in recent months with a banker specializing in media, the Financial Times reported.
Word followed that the banker's firm, LionTree, quashed that speculation.
This raises a million questions: If Trump builds it, will they come? Who's in his corner? Do we need yet another news network?
But the Facebook Live stream during the debate points toward a logical media outgrowth for Trump. With a television production company already under his belt, and ties cut with his former home on NBC, it appears Trump's next conquest very well could be to own his own mouthpiece. He's already spreading the word that you can't trust the "biased" media.
Let's dig in.
Does Trump have a big enough fan base?
In the primary, Donald Trump received about 13.3 million votes, the most of any Republican candidate. USA Today estimated he could come out of this election with 30 million supporters.
Trump has 12.7 million Twitter followers. Even if a lot of those are people who hate-follow him, maybe folks would tune in to hate-watch him too.
Could Trump's supporter numbers translate into real viewership of a media outlet?
His viewership on programmed television has certainly been strong: The Apprentice was a genuine hit its first year, 2004, averaging 21 million viewers a week and ending up as the seventh-most-watched show of the year, according to the Chicago Tribune.
Of course, it's important to look at the stickiness of those viewers. According to the Tribune, the show's ratings declined steadily each year after that, to 11th place overall in its second season, then 15th, then 38th. 
After its sixth season in 2007, the show came in as the 75th-most-watched, with 7.5 million viewers on average each week. And after that, it focused on using celebrities as contestants.
But all of these numbers are still nothing to sniff at. As a comparison, Oprah Winfrey's successful cable network commands prime-time viewership just a little above 500,000, the Wall Street Journal has reported.
Can the Trump brand take on TV?
Commenters are still speculating on whether Trump will try to get into traditional cable, which is expensive, or move into "over-the-top" streaming offerings.
As Ryan Lizza wrote in the New Yorker, "It also seems highly unlikely that Trump — who is loath even to spend money on polls because he believes there are plenty of public ones he can have for free — would suddenly cough up tens and perhaps hundreds of millions of dollars to enter the fraught business of cable TV." 
Media insiders concurred with those cost estimates, telling the Street a cable network launch could set Trump back hundreds of millions of dollars. 
OTT, whereby content is delivered over the internet, does require more software and development investment — and requires negotiating with partners like Apple and Amazon to get content to viewers.
But overall, an OTT offering would likely require a lower initial investment than launching a traditional channel, as NBC points out.
What would Trump TV look like?
Here is what the Facebook Live stream looked like:
What were the reviews?
BuzzFeed's Charlie Warzel wrote that it looked "more like public access than a glitzy cable news offering." 
Production values aside, it was the substance of Trump's livestream that was the real issue: During the broadcast, the show's hosts, Cliff Sims, a communications adviser for the campaign, and Boris Epshteyn, another Trump adviser, talked with guests and recycled the erroneous claim that Trump was always against the Iraq War.
Justin Peters at Slate summed it up as, "a pseudo-journalistic, deeply chintzy entity that's even less tethered to reality than Fox News."
Whether that could change over time is up for debate. Trump certainly has more polished conservative media names in his corner.
There's Sean Hannity, who could always jump ship from Fox to join him as top-tier talent; Steve Bannon, his campaign's CEO, the former head of the alt-right website Breitbart; and Roger Ailes, the former head of Fox News.
What's scary about Trump TV?
That Trump could eventually launch a media company — or empire — is not a new story. By some accounts, The Apprentice didn't just make Trump a star, it effectively helped turn his career around. 
But the ousting of Ailes, who departed Fox News in July after he was accused by employees of sexual harassment, creates an opportunity: Some of its high-profile pundits are now free to leave the network.
So what would Trump's network look like? Factually flexible Fox News — on steroids? 
That's certainly the concern, especially given the Republican nominee's flexible interpretation of certain facts. It's also no secret that Bannon built a huge digital media empire by catering to the alt-right.
Trump's first Facebook Live trucked in plenty of misinformation: At one point a banner flashed across the bottom of the screen saying "Alert: Trump Wins Final Debate," even as polls said exactly the opposite.  
What might be most disconcerting is the potential for a Trumpified news media company to take advantage of thriving misinformation on social media sites like Facebook.
As the New York Times Magazine reported back in August, Facebook pages like Occupy Democrats and The Angry Patriot and other hyperpartisan groups have amassed audiences in the tens of millions. An analysis from BuzzFeed showed that three popular right-wing pages posted problem information — that was either a "mixture of true and false or mostly false" — almost twice as often as three top left-wing pages.
And cable news is carefully regulated by the Federal Communications Commission, which has rules regarding everything from the types of ads that can run to what constitutes a personal attack. But that's not true of media on Facebook, where there is still reportedly internal disagreement about how and when Facebook should remove objectionable content.
In fact, Facebook seems more than happy to play ball.
Another datapoint: Right Side Broadcasting Network — the group that helped bring about Trump's debate-side Facebook Live broadcast — isn't simply gaining on traditional political media; in some ways it's already surpassed it. Business Insider noted the publisher's YouTube channel has more than 210,000 subscribers, about 8,000 more than MSNBC.
So how soon could "Trump TV" officially launch?
All that Bannon, the Trump campaign CEO, would tell CNN in response to Trump TV whispers last week was "Trump is an entrepreneur." So perhaps that SNL joke might not be too far off.
The Trump campaign did not reply to request for comment by press time.
October 25, 2016, 12:10 a.m.: This story has been updated.