Lady Gaga 'Joanne' 2016: Download and streaming options for new album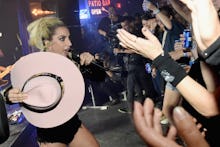 Joanne, Lady Gaga's rebirth as electro outlaw country superstar, is here. Thursday at midnight, the artist dropped her long-awaited fifth pop album, her first in three years, after a quick detour into jazz. It's currently available to stream on Apple Music and Spotify, and it's available for purchase on iTunes.
The album's 11 tracks sprawl a variety of American genres — blues, country, disco and rock 'n' roll — to produce a slick, largely acoustic mix. It includes the three singles Gaga has already released: "Perfect Illusion," "A Million Reasons" and "A-Yo," and the deluxe comes with an additional three, one being an alternate version of "Angel Down" called "Angel Down (Work Tape)."
The album is named after Lady Gaga's aunt Joanne, who died when she was 19 of lupus, which stemmed in part from the stress Joanne experience after being a victim of sexual assault when she was a college student, as Lady Gaga told Yahoo Music. But the album is all about all of her family, extended and close.
"These are stories about my family, my sister, my father and his sister," Gaga told Rolling Stone. "My mom's family. My relationships with men, my failures ... In the album, I go through all those moments in my life. And that is what is most wonderful about it for me, to listen to it back. I get to go, 'You know what, I did right by that person, as an artist.'"
Fans are already working to furiously unpack the album's lyrics, which Gaga shared along with "family heirlooms," such as a picture of Joanne's old student ID.
Physical versions of the album are also available with the above lyric book, with vinyl shipping in mid-December to match the album's twangy, throwback aesthetic. You can listen below to see what Gaga — or Joanne, rather  — cobbled together for her dive bar jaunt, and read Mic's review here.
October 21, 2016, 1:02 a.m.: This story has been updated.