Lady Gaga 'Joanne' Track List 2016: Here are all the songs off new album and our top picks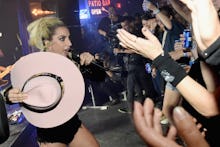 Gaga's Little Monsters, and the rest of the world, have waited 3 years for new pop from the shape-shifting goddess herself. Friday at midnight, the artist answered that call when she dropped Joanne, her fifth pop album.
The album offers 11 tracks and clocks in at just under 40 minutes, while those willing to dish out the money for the deluxe edition will get 14 tracks and 47 minutes worth of Gaga' new signature blend of electro-infused country and blues. 
The track list is as follows: 
1. "Diamond Heart"
Those looking to peruse through some of Joanne's best tracks should check out the fun and funky "A-Yo," released as a single just three days prior to the album. The trippy country jaunt "John Wayne" sums up the album's aesthetic well, while the album's title track "Joanne" offers more contemplative vibes.
Only one credited vocal collaborator joins Gaga on this album — Florence and the Machine's Florence Welch. Their duet, "Hey Girl," is also worth a listen. 
The album's first single "Perfect Illusion" sits in the center of the album, bridging the more uptempo first half with the more serene ballads of the back side. Out of all 14 of the new offerings, no other song a bolder hook or a more brazen key change.
You can also check out Mic's full review of the album here.