Taser is considering a flying, autonomous police drone armed with a stun gun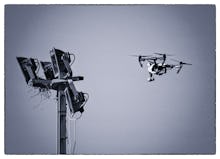 Using potentially lethal force is one of the toughest decisions a police officer can make in the course of their work. In the future, they could outsource that decision-making to an armed drone instead.
Taser representatives met with police officials this week at a conference of police chiefs to discuss the possibility of mounting stun guns on small, quadcopter-style drones for police to deploy for potential use-of-force scenarios, the Wall Street Journal reports.
"One can certainly imagine high-risk scenarios such as terrorist barricades where such a capability could allow public safety officers to more rapidly incapacitate a threat and save many lives," Taser spokesman Steve Tuttle told the Journal.
Police officials in attendance were understandably worried that the presentation could cause some nervousness among the public.
Tuttle said that Taser was inspired by the Dallas Police Department's use of a bomb-disposal robot armed with explosives to remotely kill a sniper during a shootout in July. Police are showing more interest every year in buying robots that officers can use to put distance between themselves and potentially hostile civilians.
"If an officer goes into a room and there's an armed adversary, he has no choice except to shoot," said Sean Bielat, CEO of military robotics company Endeavor Robotics, told Mic in July. "By adding time and space between the operator, you've introduced an element that can potentially reduce casualties."
But the key word used by Tuttle is "autonomous," implying that the robots Taser is interested in providing aren't necessarily remote-controlled, but self-driving. Putting potentially lethal weapons in the hands of robots that make decisions on their own opens up a Pandora's Box of unexplored ethical complications.
Taser is generally known as a major provider of stun guns for police, but particularly in the past few years, they've also become the largest provider of body-worn cameras and the online storage space police need to store footage from those cameras. Taser drones represent another new business opportunity for the company that's seen its stock price explode in the past five years.
The last time a Taser drone made headlines, it was in 2014 when software development firm Chaotic Moon Studios debuted one at South by Southwest as a publicity stunt. Satisfied by the opportunity to use a stun gun on an intern, but terrified by the possibilities, the studio shelved the project immediately.
But now, police drones aren't a speculative thought — they're an impending reality. In August 2015, North Dakota became the first state to preemptively allow police to mount weapons on a drone. At the time, Tuttle told Popular Mechanic he was "stupefied" that anyone would suggest Taser would put a weapon on a drone, insisting that they were "not actively working on any drone concepts for Taser weapons."
Clearly, the times have changed.