Kim Kardashian West Paris robbery: Video shows suspects fleeing her apartment after attack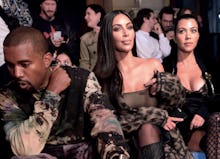 Footage captured on CCTV cameras shows Kim Kardashian West's alleged attackers, who tied her up and stole millions of dollars in jewelry on Oct. 3, approaching and fleeing her Paris apartment.
The grainy video, published Thursday by M6 news channel and then TMZ, shows five suspects approaching Kardashian West's apartment in the Hotel de Pourtales at 2:19 a.m., USA Today reported. Three are riding bicycles, while two are on foot.
The subjects of the video can be seen again 49 minutes later, according to the video's time stamp — this time, fleeing in the direction from which they came. A bag is visible on the front of one of the suspect's bicycles.
Kardashian West was held at gunpoint, tied up with plastic zip ties and carried into a bathroom by masked assailants dressed as police officers during the early October robbery. According to Us Weekly, Kardashian West feared the men would sexually assault her. 
The attackers stole a jewelry box holding $7 million in valuables and a $4.5 million ring, according to USA Today.
On the night of the incident, Kim Kardashian West's spokesperson told CNN she was "badly shaken but physically unharmed."
In the weeks following the robbery, sister Khloé Kardashian said Kardashian West was "not doing that well." 
"I mean, it's incredibly traumatic what happened to her, but our family is super close and great and we'll get through it together and we do appreciate all of your guys' love and support and it will take time," Kardashian told Ellen DeGeneres. "You know, it was horrible what happened to her."