Lady Gaga "Angel Down" Lyrics: Gaga reveals the meaning behind the Trayvon Martin hymn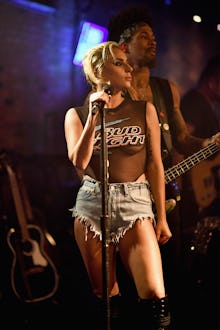 At this stage in the game, Lady Gaga is done making songs about "twerking" in the club. With Joanne, the artist who built her name off gleeful "Disco Stick" and "Just Dance" is aiming to reach into far deeper territory. No track is a better example of this new aim than "Angel Down," Gaga's ode to the Black Lives Matter movement.
"How can I not say something?" Lady Gaga told Beats 1, Apple Music's streaming radio station, referring to "the epidemic of young African-Americans being murdered in this country," as she described the movement. 
"How could I possibly make an album about twerking my ass in the club?" she said. "In my mind, I can't reckon it. It feels empty. It feels irrelevant."
The conviction with which she says these words should give listeners an idea of what Gaga's looking to capture with her new album. Perhaps unsurprisingly, it's one of the strongest lyrical and musical arrangements on the album by far.
The song's lyrics expressing confusion at the absolute apathy Gaga sees following an "angel" getting gunned down in the street.
"Shots were fired on the street," she sings. "By the church where we used to meet/ Angel down, angel down/ But the people just stood around."
The song was specifically inspired by Trayvon Martin, who was shot and killed by George Zimmerman in 2013. "I was overwhelmed by the fact that people just stood around and didn't do anything about it, and that the justice system continues to, over and over again, not seek justice for these families," she told Beats 1's Zane Lowe.
The song also seems to credit some of that paralysis as being social media-born: "I confess I am lost/ In the age of the social/ On our knees, take a test/ To be lovin' and grateful."
This social media disillusionment is a theme Gaga also explores on "Perfect Illusion." 
"We're living in a social media storm right now," Gaga told Radio.com, "where there's so many augmented, filtered, perfect illusions around us that we can't figure out what's authentic and what isn't."
Gaga apparently struggled some with the fact she's a white woman commenting on black issues. But hearing from her fans about their experiences with police, she felt she needed to speak to.
"They tell me they drive in their cars, and if they hear a siren, there is a paranoia that runs through their body, that they freeze up, that they can't think. This is a tremendous anxiety," she told Beats 1. "This is something that I care about. This is something that has to stop, something that we all need to heal from."
Correction: Oct. 21, 2016