Prince unreleased music: Two albums detailed, including a new second 'Purple Rain' disc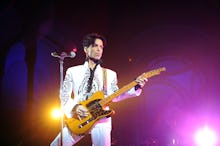 Prince's vaults are easily one of the seven wonders of the music world. According to myth and legend, there is enough Prince music in there to "produce albums for another 100 years." Following the artist's untimely death, it wasn't entirely clear what would, or what should, happen to it all. The word as of Oct. 13 was that it was being shopped around to record labels with a $35 million price tag.
Friday, NPG Records and Warner Bros. announced that unreleased Prince music is on the way. The record companies shared details on two separate projects. One is a greatest hits compilation Prince 4Ever, which will contain a previously unreleased track "Moonbeam Levels." The second album will be a deluxe edition of Purple Rain, reportedly planned with Prince's input, according to Complex, with a whole second disc of new material.
Let's go crazy. Let's get nuts.
"Moonbeam Levels" has been widely bootlegged, with Elvis Costello covering the track at a 2013 Prince tribute concert. Yet it never saw an official release under the Purple Ones' name. Recorded in 1982, it comes from Prince's 1999 sessions, but it never saw placement on the album. It nearly found a home on 1989 album Rave Unto the Joy Fantastic, before Prince decided to scrap the project and focus on the Batman soundtrack. 
Prince 4Ever will arrive Nov. 22. The other songs on the album will cover the years he was signed to Warner Bros., spanning 1977 until 1996.
The details of the new Purple Rain project are a little hazier. The record companies have declined to release any details at this point, but they're aiming for an early 2017 release. For fans thirsting for new music from their Prince, hopefully is the first sign of an even greater unearthing to come. 
View the track list for Prince 4Ever below, and peek that sweet newness sitting pretty at track 33.
1. 1999