'Black Mirror' season 3 on Netflix: Release date, spoilers, cast and more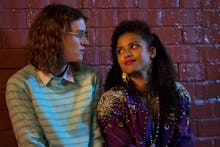 Grab your security blankets and put down your phones: Black Mirror is back. The dystopian sci-fi series is hitting Netflix for its third season, with half a dozen more stories about the horrors of technology on the way.
Here's what you need to know about the new season.
Black Mirror season 3 release date
Black Mirror's third season hit Netflix Friday, adding six episodes to the series' previous seven entries. When the series was on the BBC, creator Charlie Brooker produced three episodes per season, plus a Christmas special starring Jon Hamm.
As is the norm for Netflix, all six episodes hit the service simultaneously. Binging is possible, but considering the heft of Black Mirror's subject matter, it's not recommended.
Black Mirror season 3 spoilers
As with the first two seasons, every episode of Black Mirror has a different plot. The first of the season, "Nosedive," is all about one woman's ambition to be beloved on social media. Another, "San Junipero," takes the audience back to 1987, in what is Black Mirror's first trip to the past. (Of course, it's not that simple; it's never that simple on Black Mirror.)
The stories range in subject matter, but the through line between each is the same: the way technology influences lives, usually for the worse. Remember: The title of Black Mirror is a reference to what screens look like when off.
Black Mirror season 3 cast
Black Mirror drew a pretty starry cast for season three — one that mixes American actors in with the slew of British stars seen in the first two seasons. The lead of the very first episode, for instance, is Bryce Dallas Howard.
Other stars this season include Gugu Mbatha-Raw, Mackenzie Davis, Michael Kelly, Kelly MacDonald and Wyatt Russell. Some of the most interesting names, however, are behind the camera. For example: "Nosedive," Howard's episode, was directed by Atonement helmer Joe Wright and written by Parks and Recreation creator Mike Schur and star Rashida Jones.
A new season means a whole new world of Black Mirror. The only question now is, which story will turn out to be frighteningly true in a few months' time?