Climate change never came up during the 2016 presidential debates — why?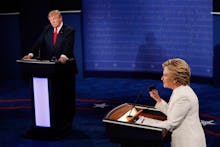 The three presidential debates are officially over, and not one question was asked of the two major party presidential candidates about climate change.
This is the second presidential cycle in which the presidential candidates weren't asked about climate change at the debates — the events with the highest viewership during the entire presidential campaign.
Climate activists and groups that push for policies to stop the negative effects of climate change are frustrated. They say the lack of questions on the issue shows the debate moderators are not in touch with the American people, for whom climate change is a growing concern.
"It's really a missed opportunity," Seth Stein, national press secretary for the League of Conservation Voters, a group that lobbies for environmental reform, said. "Climate change is an issue that's becoming increasingly important to Americans. And especially when it come to the debates, this is an issue that's especially important to key groups of voters, including millennials and swing voters."
Polling does show that climate change is a key issue for millennials.
Tom Steyer, a billionaire whose super PAC NextGen Climate has polled millennials throughout the 2016 election, found that 80% of voters under the age of 35 would be "more likely to vote for a candidate who wants to establish the U.S. as the clean energy superpower of the world."
And Steyer blamed the lack of climate change questions in the debate on the fact that no millennials were chosen as moderators.
"The fact of the matter is, there is a striking difference between what I think the American people want and what the moderators and press want to talk about," Steyer told Mic in a Facebook Live interview Thursday. "People ask, 'Why do people under the age of 35 think our political system is not responsive?' [I think], 'Well, hello, here we go, the political system has the three biggest debates of the year and the moderators never ask the question on the issue that's the No. 1 issue for people under the age of 35.' Excuse me, how many of the moderators were under 35?"
Steyer and Stein say asking a climate change question at the debate would have been one of the most revealing moments of the debate, given that Hillary Clinton and Donald Trump's views on the issues are so disparate.
Clinton has made climate change a key part of her stump speech, calling out Republicans who she says ignore science when they deny climate change.
She's also said she wants to make the United States a clean energy super power, bringing up the issue on her own volition during the first debate.
Trump, on the other hand, has called climate change a hoax created by the Chinese.
Unfortunately for climate activists, however, they'll have to wait another four years for the chance to see the question brought up at a general election debate.